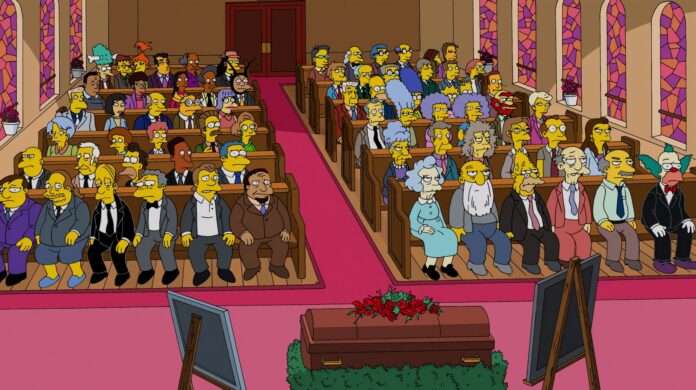 Even in a light-hearted show like the Simpsons, characters occasionally pass on or their voice artist does. Over the twenty plus years the show has been running most of the characters have remained, but ten well-known recurring characters have also passed on. Can you name them all?
#1 Edna Krabappel
The teacher with the amazing laugh! Outside school Edna was portrayed as a typical mid-life single adult, heavy smoker, gambler and occasional solitary drinker trying to find the right man. She had numerous affairs with many Springfieldians, her reoccurring choice always being Principal Skinner, usually out of pity rather than affection. Finally, from Season 23 she found love with Ned Flanders and married him.
Marcia Wallace had provided the voice for Edna but died on October 25, 2013, due to pneumonia. In 'The Man Who Grew Too Much', a brief scene at the end of the episode showed Ned mourning her loss, how she passed away is overlooked. In the episode 'Holidays of Future Passed', Ned mentions that Edna was accidentally killed by Homer; however, future episodes are non-canon.
#2 Maude Flanders
Maude Flanders was the wife of Ned Flanders, and the mother of Rod and Todd. Maude was a devout Christian and was often judgemental of her fellow Springfield residents.
In "Alone Again, Natura-Diddily", Maude died after being knocked off a grandstand by several t-shirt cannons at the Springfield Speedway. The shirts had been meant to hit Homer, who wanted one of them. However, before the shirts could hit him, Homer noticed a bobby pin on the ground, and bent over to pick it up. This caused Maude, who was returning to her seat behind Homer, to be struck instead, and fall off the grandstand to her death.
The real reason her character was killed off was due to a pay dispute between the actress  (Maggie Roswell) who voiced her character and the show's producers.
#3 Rabbi Hyman Krustofsky
Hyman was a respected Rabbi in Springfield's Lower East Side; his father and grandfather also having been rabbis. He was married to a woman named Rachel, and the marriage produced one son, Herscel Krustofsky (better known as Krusty the Clown). Hyman died during the first episode of Season 26, "Clown in the Dumps."
His last words were "As for you, son, if you want to know my honest opinion of you, you've always been…eh..".
#4 Mona Simpson
Homer's hippie Mom.
Seemingly always on the run, she is always a well-meaning criminal trying to further some cause or another.
Mona returns to Springfield one last time, visiting Homer. Homer has grown sick of his mother's constant leaving and returning and refuses to reconcile with her in order to keep himself from feeling hurt. Later, feeling guilty, he attempts to apologize to his mother, only to find out she had passed away sitting in front of the fireplace.
#5 Fat Tony
Marion Anthony "Fat Tony" D'Amico was Springfield's mob boss. In 'Donnie Fatso', Fat Tony collapsed and died in Homer's arms. His death was most likely caused by a heart attack or cardiac arrest. He was replaced by his cousin Fit Tony.
#6 Bleeding Gums Murphy
Bleeding Gums Murphy is loosely based on Sonny Rollins, a great saxophone player who took a break from his life as a recording and performing jazz artist to practice his musical craft on a bridge.
He makes his final appearance in "Round Springfield". When Bart ends up in the hospital after eating a jagged metal Krusty-Os, Lisa finds Bleeding Gums in a hospital bed in a nearby ward. They play Carole King's "Jazzman" together, entertaining the hospital. He explains about his life, family and work to her as well as giving her advice for her upcoming school performance, lending her his saxophone. When Lisa returns she is devastated when she finds out that Bleeding Gums has died from circumstances that are never revealed, possibly cardiac arrest.
#7 Frank Grimes
Frank Grimes is a c-worker of Homer at the Springfield Nuclear Power Plant and his self-declared enemy. He was the polar opposite of Homer – a hard worker, who had to earn everything the hard way. He was also irritable, grumpy, and easily annoyed.
In an effort to prove that Homer was a truly undeserving buffoon, Grimes tricked him into entering a nuclear power plant model-building contest intended for kids. When Homer won the contest with his own entry (a copy of the current power plant, with added fins to lower wind resistance and a racing stripe) and received thunderous applause from the audience, Grimes finally snapped, declaring everyone in the plant to be insane. Clearly having lost his mind, Grimes ran through the plant, psychotically impersonating Homer in a mocking fashion, and ultimately spotted some high-voltage power cables, saying, "What's this? 'Extremely high voltage.' Well, I don't need safety gloves, 'cause I'm Homer Simp–" He touched the cables before he could finish his sentence and was fatally electrocuted.
#8 Clancy Bouvier
Clancy was the husband of Jacqueline Bouvier, the father of Patty, Selma, and Marge Bouvier, father-in-law of Homer Simpson and the maternal grandfather of Ling Bouvier and Maggie, Lisa, and Bart.
We know that Clancy is deceased, since Homer said he had bought Marge a "white-noise machine" to help her deal with her father's death. It was later revealed by Jacqueline that he died of lung cancer
#9 Alice Glick
Alice Glick was an elderly woman who resided in the same neighbourhood as the Simpsons. Bart sometimes does work for her in exchange for pocket money.
Mrs. Glick is killed in "Replaceable You" by a rogue robot seal. She is later seen in Heaven.
#10 Snowball I, II, & III
The original Snowball got hit by a Chrysler, and Lisa got a new cat and named her Snowball II. Her name is slightly ironic because she is black unlike the original Snowball or an actual snowball that is white.
Lisa adopted Snowball III from an animal shelter shortly after the death of Snowball II. At the shelter, she passed over a skunk, a Siamese cat, a cat she assessed as "too needy," and a cat with an eye infection before finally deciding upon Snowball III.
After bringing him home,
Lisa went into the kitchen to prepare cat food to serve Snowball III his first meal in his new home. She went into the living room to check on him, only to find him drowned in the aquarium dead, apparently having tried (and failed) to catch a goldfish. Snowball III was a brown male cat and had light green eyes.