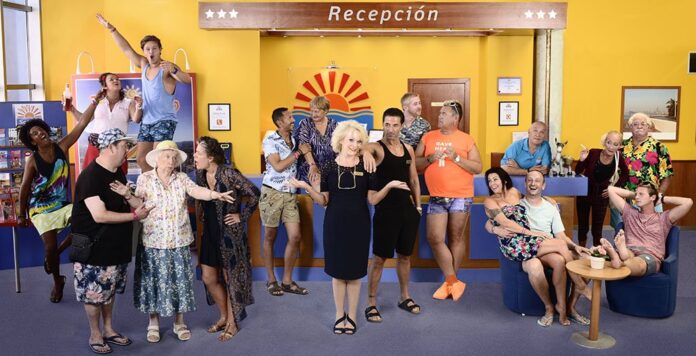 Benidorm is a British sitcom written and created by Derren Litten and produced by Tiger Aspect for ITV that aired for ten series from 1 February 2007 until 2 May 2018.
In that time, it has seen some famous faces check into the Solana hotel as both themselves and as guest characters. How many of these cameos do you remember?
Photos : ITV/ Tiger Media
#1 Joan Collins
Joan Collins has played the Solana owner Crystal Hennessy-Vass since season6. A recurring regular since 2014, it will probably Joan switching off the lights at the Solana should the show ever come to an end!
#2 Uri Geller
Magician Uri Geller made a short cameo in Series 9 to give some positive thinking advice to Solana worker Billy.
#3 The Krankies
Ian and Janette Tough (aka 'The Krankies') played swingers Pepe and Agnes LeCruz in the season finale of season 6.
#4 Sheridan Smith
Sheridan Smith played guest character Brandy. She was a love interest for Martin Weedon (Nicholas Burns) after he split from his wife Kate (Abigail Cruttenden). Brandy was portrayed as a caring person but was revealed as a con woman in her later episodes by stealing from Martin and the rest of the hotel guests.
#5 Tony Hadley
Ex Spandau Ballet front man Tony Hadley made the opening episode of series 10 in 2018 even more star studded as he belted out 'True' to an assembled wedding party of cameos. Later, he sang 'Gold' from a boat to the guests assembled on the beach.
#6 The Chuckle Brothers
2018 cameos did not just included Tony Hadley. The final season also had a cameo by the Chuckle Brothers as a magician and an assistant in drag.
#7 Cilla Black
Cilla Black made a cheeky cameo in the opening episode of Benidorm in 2011. The former Blind Date host makes a surprise appearance at Madge's villa, where she ends up offering Middlesbrough Swingers Association's most famous members Donald (Kenny Ireland) and Jacqueline (Janine Duvitski) the chance to share a sauna.
#8 Una Stubbs
Una Stubbs made a surprising appearance in Series 3 as Martin's Mum Diane Armstrong. Past revelations included much more than her dancing skills!
#9 George Shelley
Former Union J member George Shelley played Giles, a university friend of Rob Dawson in series 9.
#10 Madness
Madness ended series 9 by giving a performance to remember in the Neptune's Bar!