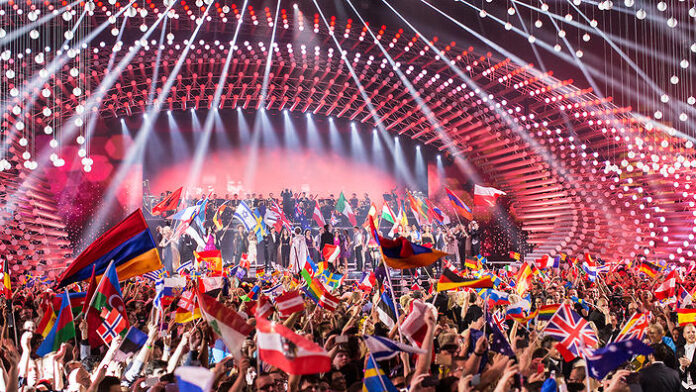 Eurovision may have been put on hold this year, but that does not us stop us from celebrating the 64 previous contests! The most famous musical contest on Earth has an army of fans who can regale you with thousands of facts about the show's many past colourful performances and amazing venues. Here are our top ten Eurovision facts.
#1 Eurovision is the #1 biggest Music Show in the World
The Eurovision Song Contest (French: Concours Eurovision de la chanson),  often simply called Eurovision, is the longest-running annual international TV song competition. It is watched across five continents by hundreds of millions of viewers and is the largest music competition in the world. It has helped start the careers of the likes of Abba and Celine Dion and has a large following of dedicated fans.
#2 At the first Eurovision, each country sang two songs
In 1956, every participating country could enter with two songs. The Netherlands were the first country to sing a song on Eurovision with "De vogels van Holland" (the birds of the Netherlands).
#3 All Eurovision songs have to be 3 minutes or less
All Eurovision songs must not be longer than three minutes. Which makes sense given the number of contestants..
#4 The UK has hosted the Eurovision four times without winning
The previous year's winner hosts Eurovision but it's so expensive that nations have pleaded poverty to get out of it. The countries who have opted out include the Netherlands, France, Monaco, and Luxembourg and the job went to the UK four times
#5 Five barefoot winners
There have been five barefoot winners in Eurovision history: Sandie Shaw (1967), Sertab Erener (2003), Dima Bilan (2008), Loreen (2012) and Emmelie De Forest (2013)
#6 Only 6 allowed on Stage!
Groups of more than three were not allowed into Eurovision until 1971. Even now, no more than six people are allowed on stage (including backup singers and dancers).   In recent years backup singers have been allowed to be "invisible" (i.e. sing backstage, out of camera shot).
#7 Ireland has won Eurovision seven times
Ireland holds the record of most victories in Eurovision Song Contest: Seven victories! The six of these victories was in the 80s and 90s: 1970, 1980, 1987, 1992, 1993, 1994 and 1996
#7 The UK has hosted 8 times
The contest has been held in the UK no less than eight times, despite them only winning five times. The venues were London (1960,1963,1968,1977), Edinburgh (1972), Brighton (1974), Harrogate (1982) and Birmingham (1998).
#9 Nine in ten Danes watched Eurovision in 2001
95 percent of the Danish viewing public saw the 2001 contest on TV – the highest percentage in Europe
#10 Ten famous participants
Blue, Lulu, Julio Iglesias, Engelbert Humperdinck, Sandy Shaw, Cliff Richard, Bonnie Tyler, Olivia Newton John, Michael Ball and Celine Dion have all graced the Eurovision stage!