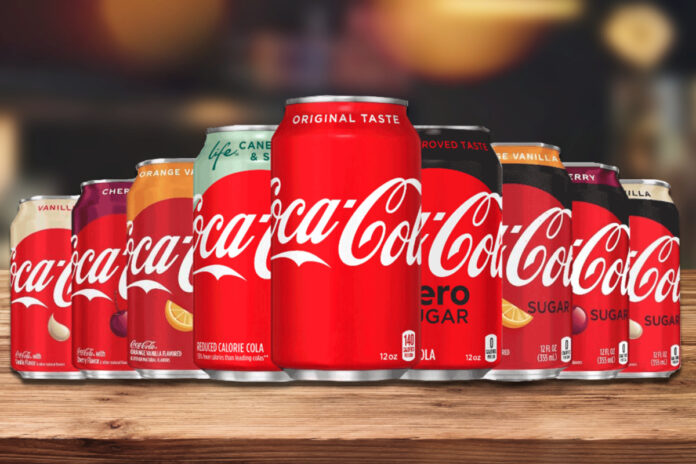 In 2018 Coca-Cola unveiled an alcoholic drink for the first time in its 125-year history with three fizzy and alcoholic versions of their Coca-Cola drinks in Japan.
The drinks giant launched a fizzy lemon flavoured alcopop in Japan on May 28th 2018 and  aimed marketing at the growing market of young drinkers in their 20s. The three drinks range from three per cent to eight per cent alcohol.
The three new 'Lemon-Do' drinks are available in the southern Kyushu region of Japan. A 350 ml can will cost customers 150 yen, which is around £1.
The recipes are a closely guarded secret but the drinks are modelled on the country's popular Chu-Hi drinks which are a mix of local spirit and fruit flavours.
#1 Coca Cola Orange
Coca-Cola Orange was a variation of Coca-Cola available for a limited time in the UK and Gibraltar. It had a limited launch in various countries including Brazil in 2017 but only continues to be sold in Latvia and Russia.
In Germany and Sweden Orange Coca-Cola is known as Mezzo Mix Orange.
#2 Coca Cola Feisty Cherry
Launched in 2018 to mixed reviews, style magazine GQ even branding it 'Diet Coke Psychotically Violent Cherry'.
#3 Mexican Coke
In the USA, Mexican Coke (Spanish: Coca Cola de México) or, informally, "MexiCoke", refers to Coca-Cola produced in and imported from Mexico.
Although intended for consumption in Mexico, Mexican Coca-Cola has become very popular in the United States because of a flavour that Coca-Cola fans call more "natural tasting". While many believe the primary difference in flavour between Mexican Coca-Cola and the American Coca-Cola formula is that Mexican Coke is sweetened using cane sugar as opposed to high-fructose corn syrup, a scientific analysis of Mexican Coke found no sucrose (standard sugar), but instead found fructose and glucose levels similar to other soft drinks sweetened with high-fructose corn syrup. Most of the Mexican Coke exported to the United States is made with cane sugar, while some Mexican bottlers may use high-fructose corn syrup for drinks intended for sale in Mexico. Therefore, while most of the Coca-Cola labelled "Mexican" in the United States is made with cane sugar, this is not true of all Coca-Cola sold in Mexico.
In a taste test conducted by a Westchester (New York) magazine, tasters noted that the Mexican Coke had "a more complex flavour with an ineffable spicy and herbal note", and that it contained something "that darkly hinted at root beer or old-fashioned sarsaparilla candies".
#4 Coca Cola BlāK
Coca-Cola BlāK was a coffee-flavoured soft drink introduced by Coca-Cola in 2006 and discontinued in 2008. The mid-calorie drink was introduced first in France and subsequently in other markets, including Czech Republic, Slovakia, Lithuania and Slovenia.
Coca-Cola BlāK launched in the United States on April 3, 2006. Coca-Cola BlāK launched in Canada on August 29, 2006.
The French and Canadian versions of Coca-Cola BlāK were sweetened with sugar. The U.S. version of Coca-Cola BlāK replaced sugar with high fructose corn syrup, aspartame, and acesulfame potassium.
The American and Canadian versions had a plastic resealable cap on a glass bottle that resembled the classic Coke bottle, where the French/Czech version was a bottle shape formed in aluminium.
#5 Coca Cola Twisted Mango
Diet Coke Exotic Mango was introduced into the UK market March 2018 and into the US market January 2018.
The new flavours and the new can shape in the US were intended to re-invigorate the brand at a time of intense competition from other drinks manufacturers.
#6 Ginger Coke
Ginger Coke was introduced to the Australian and New Zealand markets in 2016 to mixed opinions. Whilst Northern Europeans and American audiences might associate ginger with Christmas, it was actually introduced for the Summer season down under.
#7 Coca-Cola Citra
The bottle design is yellow and green stripes, and a pair of citrus fruits resembling a lemon and a lime.
A Coca-Cola Light with Citra variety exists in Mexico and Japan.
The Citra variety was introduced into New Zealand in 2005 but discontinued in 2007.
#8 Raspberry Coke
Coca Cola Raspberry was the third flavour to be added to original Coke in New Zealand. It was introduced on a trial basis in 2005 but discontinued the same year.
In February 2018 Coca Cola hoped to return to its artisanal routes, with the introduction of a raspberry sourced from raspberries grown in California. "Specialty sodas are particularly appealing to people who enjoy discovering crafted flavours and who have a desire to try curated food and beverage experiences," said Lillian Norton, senior brand manager, Coca-Cola Innovation. "We see an opportunity to make more of a full portfolio play in this space with these new locally inspired flavours."
#9 Green tea-flavoured Coca Cola
Green tea-flavoured Coca-Cola hit Japanese stores June 8th 2009. It contains tea antioxidants called catechins, leaves a slight green tea aftertaste and is mainly targeted at health-conscious women in their 20s and 30s.
#10 Coca Cola Ginger Lime
Unfortunately, not available in Scotland!
Coca Cola is a trademark of the Coca Cola Company. Images sourced from Freesource online and from https://www.coca-colacompany.com/ . Videos linked from YouTube.