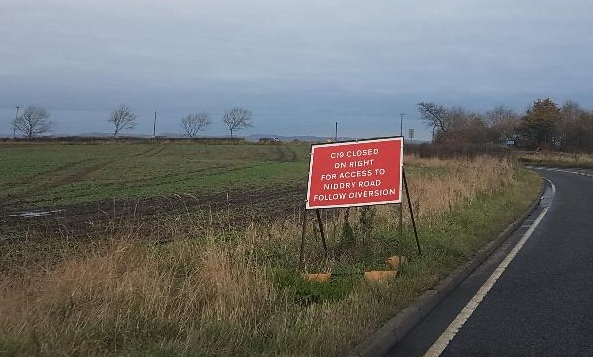 The sight of an 'M' road will be known to all Winchburgh residents, with the village being close to both the M9 and M8. Any certainly the sight of a road sign indicating an 'A' or a 'B' road will be a familiar one to any driver. But the sight recently in the village of road signs indicating road closures with a 'C' designation has left many puzzled. So what exactly are 'C' roads?
It is a road sign which has intrigued local road sign geeks, as it is a sign which in theory should not exist.
Factually 'C' roads should only be found in local authority designation spreadsheets and logbooks but should not appear on road signs. They are typically rural roads and lanes with low traffic densities, and are designated as unclassified or 'quiet roads' commonly using 'C', 'D' and 'U' prefixes.
Whilst it is extremely rare to see a 'C' road designation on a permanent road sign, the Winchburgh signs placed in the last couple of months are temporary to advise on a road closure, and therefore allowed by the guidelines.
The Winchburgh sign shows the temporary closure of the C19. This road starts at the eastern end of Linlithgow town centre, at a signalised junction on the B9080 next to the railway bridge. At first, it heads west, alongside the railway, following Back Station Road, before forking left onto Manse Road which soon turns south, climbing steeply across the canal. Leaving the town behind, the route curves south east then east at Riccarton, reaching the B8046 below Tor Hill. The C19 continues over the B8046 (Ecclesmachan road) and ending at the junction with the B8020 in Winchburgh.
However, the C19 and its 'C' designation is not a rarity in West Lothian, and certainly not in Scotland. According to Transport for Scotland, there were 117km of 'B' roads in West Lothian, compared to 116km of 'C' roads. (Aberdeenshire has the most 'C' roads, with 1540km. In fact, in Scotland as a whole 'C' roads make up 19% of our total road network. Which makes the rarity of road signage with their designation seem strange.
More worryingly, if we are only supposed to see 'C' road signs when there are road repairs and closures, their condition means we should be seeing 'C' road signs much more often than we do. In West Lothian alone, as of stats in 2017, 7% of 'C' roads were classed as being in a red condition, 35% in in an amber condition.
If you would like to find out more about 'C' roads, there are fan websites designated to British roads and their signage, such as SABRE and roads.org.uk. And if you want to find out locally in West Lothian where each of our C1-32 and U1-43 are located, you can do so here.