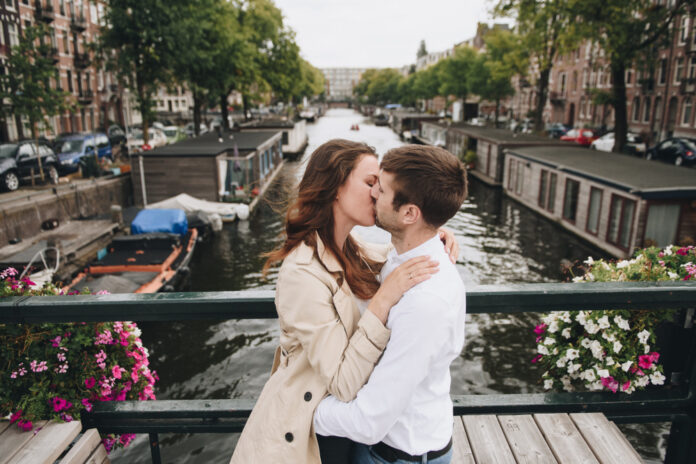 When you take away the heavy-going nightlife, the 'coffee shops', and the obscure museums, Amsterdam remains to be one of the most accessible and fulfilling romantic getaway options available in Europe. With its idyllic backdrop of winding canals, colourful buildings, and tranquil parklands, there is a whole lot more to Amsterdam than meets the eye – read on to find out our top picks for romantic attractions and accommodations for couples on a weekend break in the Dutch capital.

By James McKean
Amsterdam has a reputation for fun – parties, stag weekends and its unique cafe culture. But it can be just as fun for couples on a romantic break. Here are some ideas of how you could spend your weekend.
Parks and Gardens
The best season to visit Amsterdam, and the preferred season for romantic getaways, is the springtime. Bright blue skies dominate this time of year and with the crocuses, tulips, and and daffodils all in bloom, the city parks are gifted an enchanting allure.
Keukenhof Gardens – One of the best places that showcases the city's spring charm is Keukenhof Park – with its extensive flower gardens open exclusively between March and May. Located south west of the city in the town of Lisse, this garden dates to the 19th century and sprouts over 7 million flowers annually. Located in a region known as 'Bollenstreek' which is home to many other idyllic gardens – it is recommended to make a day trip out of it from Amsterdam and to visit a few neighbouring gardens.
Vondelpark – Located more centrally to the city and open all year round and is the most visited park in Amsterdam. Another one that looks best in the Spring, with a flower garden that boasts over 70 types of rose, there is also an open-air theatre, plus a variety of cafes and restaurants, such as the Café Vertigo, Groot Melkhuis, and Volderpark3. This is the best location for a romantic dinner or picnic!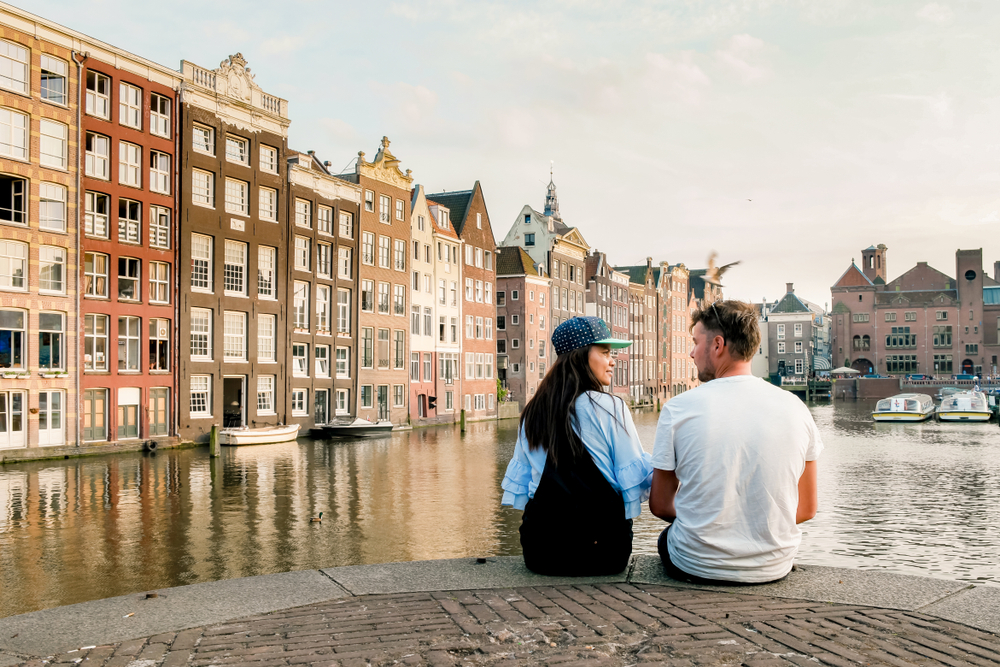 Museums
All of Amsterdam's biggest cultural attractions are centrally located which makes romantic getaways very easy to organise. Amsterdam's museum offerings are extensive, from the offbeat to the downright uncomfortable, however, out of the ones suitable for a romantic break, look no further than the Museum Square.
Van Gogh Museum – This is the most popular museum in the whole of the Netherlands, and for good reason too. It contains the biggest collection of the awe-inspiring and massively influential work of Vincent Van Gogh, coupled with the works of his contemporaries to boot.
Rijksmuseum – Another one for art lovers, this museum displays works by most reverent Dutch artists from the last 800 years, encapsulates numerous different eras, scenes, and styles, and boasts the most famed pieces by the likes of Rembrandt and Johannes Vermeer.
Stedelijk Museum Amsterdam – For a more eclectic mix of art, the Stedelijk boasts artworks from all eras, including up and coming contemporary art, amalgamated with classics by Monet, Picasso, and Renoir.
Tours
A canal tour may appear to be the obvious choice when it comes to romantic activities to do in Amsterdam, however, there is a wide variety of tours, involving all modes of transport, available throughout the city.
Romantic Amsterdam Evening Canal Cruise with Wine and Dutch Cheese – This is the premium option when it comes to canal tours, and the best way to take in the wonder of the UNESCO-listed canals as the sun goes down.
Bike tours – Amsterdam caters exceptionally well to cyclists, with 320 miles worth of dedicated cycle paths running throughout the city centre and beyond. It is very easy for tourists to make their way around on bike, even if they are unfamiliar with the streets, and with plenty quiet roads running through parklands, booking a bike tour should be an essential part of every romantic getaway in Amsterdam.
Zaanse Schans Windmills – This is a full-day excursion, involving a boat ride to the Zaanse Schans Windmills, followed by tours of the Zaans Museum and the Cheese Factory, and finished with a Clog Experience.
Walking Tour – An essential part of all city breaks – especially romantic city breaks – to get a sense for the city and an eye for its most iconic landmarks.
Beer Tour – If your idea of a romantic getaway involves a lot of drinking, Amsterdam is certainly a city that can cater. One of the best ways of locating the best watering holes, as well as learning a bit of the city's brewing history, is by partaking in one of the city's many beer tours, which will point you in the right direction of where to drink and where not to.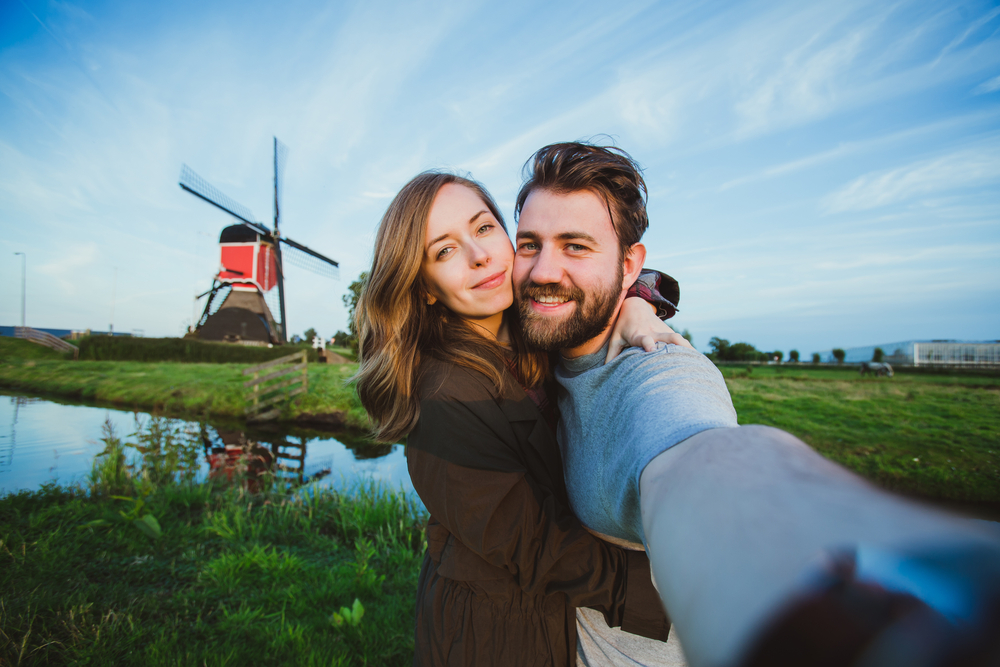 Romantic Shows
Pathé Tuschinski – The best place to go to catch new and classic film screenings, as well as music concerts and opera, is this exquisite art nouveau cinema.
Concertgebouw – Mainly a venue that hosts classical music concerts, this 19th century building offers some of the best acoustics in the world and is sure to provide the right atmosphere for a romantic night out. It is worth noting that free admission is sometimes offered on Wednesday afternoons.
Viewpoints
Amsterdam Public Library – Perhaps not the most obvious romantic location in the city, however there is a small café located on the roof terrace, which offers spectacular 360-degree views of the city – free of charge.
Hilton Doubletree Sky lounge – For a fancier equivalent, the 11th floor bar and terrace found at the Hilton Doubletree, nearby central station, is a great place for some romantic rooftop drinks.
Places to Stay
CityHub Amsterdam – For budget travellers, CityHub is a hostel that offers sizable private rooms. This is a cheaper option for those looking for a romantic getaway, while hoping for a social experience also.
Sebastian's – This mid-ranged price hotel is great for those looking to be in the middle of the action on their romantic getaway. Located nearby the popular Jordaan area, there are plenty of romantic bars, cafes, and  restaurants located nearby.
Art'otel – For those seeking an all-out lavish stay in Amsterdam, look no further than the five-star Art'otel, which boasts a restaurant, as well as a spa and pool facilities.