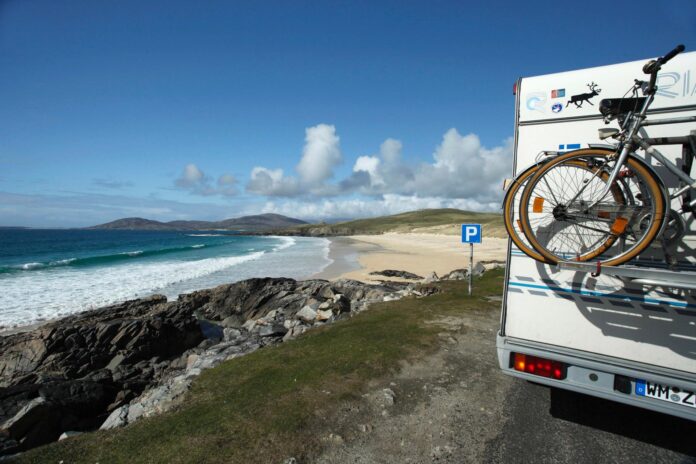 Covid travel restrictions has turned 2020 into the year of staycations and has subsequently witnessed the biggest uptake in the hiring and purchasing of campervans, caravans, and motorhomes – especially in Scotland. With its vast remoteness, its accessibility, and its award-winning landscapes, Scotland is one of the most ideal countries for campervan-based holidays in the world.
By James McKean
As much as this uptake has been great for the Scottish economy, campervan holidays, particularly wild ones, have led to some negative stories in the press – mostly relating to the overcrowding of traditionally quiet spots, and some incidents of littering. We therefore take a look at the rules you should abide by when out and about in your campervan, as well as what the typical costs are and most importantly, where to find some of the best, and unique, places to park for the night, throughout Scotland.
How much does one typically cost and are luxury versions available?
Based on the pricelist provided by one of the most popular campervan and motorhome sites in Scotland, Open Road Scotland, the most basic campervan on offer is a 4 Berth (meaning 4-bed) VW Campervan, which is at its cheapest weekly rate through the winter months, at £455; and is at its most expensive during the summer, when it costs £805 during the July/August peak time.
Luxurious vans are also available from Open Road Scotland, in the form of motorhomes, which are – in case you don't know – much bigger and feature a self-contained living space. These come in two different sizes, 5-berth and 6-berth, with each costing £910 per week during the winter, and £1330 during the summer. (all prices stated above correct as of October 2020)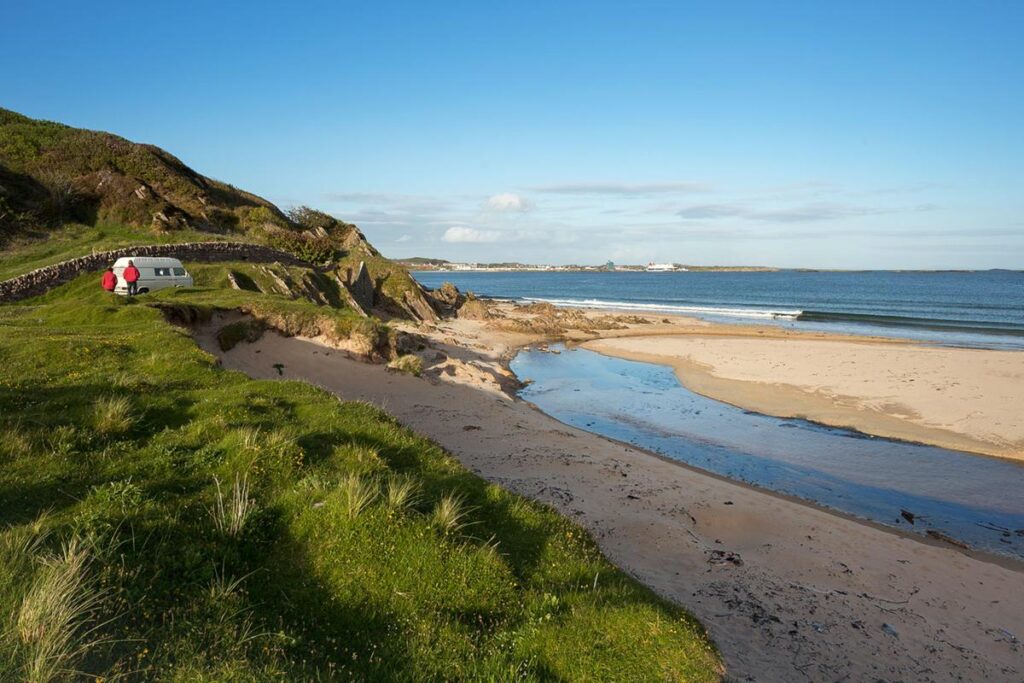 Can you pitch up and park anywhere overnight?
According to the Scottish Outdoor Access Code, wild camping and free roaming is generally permitted on any non-private land, as long as participants are responsible and only stay for a few days' maximum. Unfortunately, these rules do not extend to motorhomes or campervans; the code states: 'There is no legal right to park beside the road overnight, but there may be no objection to this in some instances – so extra care is needed.'
This may put many off the idea of parking your campervan anywhere overnight; however, esteemed road trip bloggers, The Gap Decaders, have set out some recommendations on how to do it legally, and without running into any trouble with landowners. Their recommendations include:
Downloading a free motorhome camping app, such as Park4Night, Campercontact, or Search for Sites, which provide informative maps that detail where the best free camping spots are – covering both wild camping spots and free campsites.
Be remote; try to avoid tourist destinations and areas where other campervans are parked. Also, make sure you are far away from any houses.
Don't make yourself obvious; keep music and noise to a minimum, and make sure not to leave a mess. Fires are also not recommended.
Avoid fields and farmlands, as you may be blocking an important road for a farmer.
Be cautious when parking near forestry, as you may be disturbing the natural flora and fauna of the area.
By following these guidelines, campervan holidaymakers can guarantee safe overnight stays at some of Scotland's most beautiful and remote locations.
Where are some amazing places in Scotland to go with a campervan?
Fife – For a local excursion relative to the Central Belt, Fife and the East Coast are great for campervan exploration, with amazing scenery and plenty of camping sites dotted along the way. Fife's East Neuk affords terrific coastal vistas along roads that lead through several picturesque fishing towns and villages, such as Anstruther, Pittenweem, Elie, and, of course, St. Andrews. Along the coast there are several holiday camps suitable for overnight campervan stay, which include: the Elie Holiday Park, located on Shell Bay; Leven's Woodland Gardens Caravan & Camping; or Anstruther's St Monans Holiday Park.
Glencoe – The stretch from Fort William to Glencoe is a popular campervan destination, with many suitable and remote locations right across the length and breadth of the valley. With dense forestry, Munros, and the West Highland Way all within a close locality of each other, Glencoe is a perfect destination for campervan holidaying.
Isle of Skye – There are numerous campsites suitable for campervans and caravans on the idyllic Isle of Skye, including Portree's Torvaig Campsite, Broadford's Camping Skye, and Edinbane's Greshornish Campsite, but there are also plenty of remote locations all over the island that are suitable for pitching up and staying the night. Whether it be amongst the island's rolling hills or next to its crystal-clear shores, there is limitless adventures to be had on Skye – made all the easier through campervan travel and accommodation.
Cairngorms National Park – The Cairngorms is a campervan staycation hotspot. With such popular getaway towns as Pitlochry, Aberfeldy and Dunkeld within a close locality, campervan holidaymakers are sure to find plenty of campsites throughout this national park. Surrounded by a bountiful supply of mountains, castles, leisure centres, and quaint towns and villages, there is plenty to see and do within the Cairngorms region. Popular campsites include the Blair Castle's Caravan Park, the Blairgowrie Holiday Park, the Aberfeldy Caravan Park, and the Corriefodly Holiday Park.
Loch Ness – For the most eclectic range of activities to do in Scotland's wilderness, Loch Ness, with its walking routes, water sports, and numerous Munros to climb, is the perfect destination for campervan getaways. There are plenty of campsites positioned around the waters of Loch Ness and surrounding mountain ranges, including Fort Augustus' Loch Ness Highland Resort, Drumnadrochit's Loch Ness Bay Camping, and Loch Ness Shore, which is located on the southern coast of the loch.
---
Images – VisitScotland