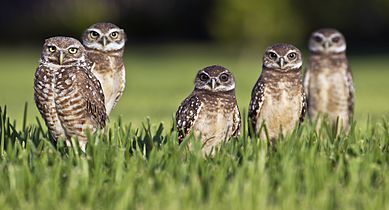 Volunteers with the Cape Coral Friends of Wildlife are asking you to keep a close eye out for unmarked burrows made by burrowing owls.
Cape Coral is fortunate to have the largest population of the Florida burrowing owl of any place in the world. But with more people out walking, running, and biking due to the safer-at-home order, volunteers believe more people can help protect the threatened species by reporting their new burrows.
The Friends of Wildlife group is asking residents to report a new burrow being found by phone, so that a volunteer can come out to mark the area, put up a burrowing owl protection sign and add a perch for the owls to rest on.
If you find an unmarked burrow, call CCFW at (239) 980-2593. If you see the harassment of wildlife, you can call FWC at (888) 404-3922.
The Cape Coral Friends of Wildlife have also issued extensive Burrowing Owl viewing etiquette on their website :
"
Although it is wonderful to view these fascinating birds up close, we need to resist the temptation of loving them to death. To help protect this endangered species, state and federal laws prohibit the harassment of burrowing owls. This includes throwing rocks at them, trying to catch them, offering food items of any kind, or getting so close that their normal behavior is compromised in any way, especially during nesting season. Nesting season officially runs from February 15th through July 10th. What many people do not realize, especially since Cape Coral's burrowing owls are so prevalent in established neighborhoods, is that your mere presence can adversely affect the well-being of the owls. Although the owls may appear content, or tolerant of your presence, if you are too close they may be afraid to leave the nest area to hunt for food for their young. If the owls start bobbing their heads, you are already too close. Bobbing their heads is not a way of saying hello, they are getting nervous and want you to back away. When viewing burrowing owls and taking pictures, you do not stay in the area around them for extended periods of time, and maintain a minimum distance of 15-20 feet. Please consider that other people also come from all over the world to view and photograph our burrowing owls. The cumulative effect of too many people, too close, for too long, could be devastating to the young. Consideration of their needs and well-being will help us to ensure that there are burrowing owls for many generations to come. Informational brochures are available at City Hall, the Cape Coral Historical Museum, local veterinary offices, and the Cape Coral Library. For more information please visit the Cape Coral Friends of Wildlife website at www.ccfriendsofwildlife.org. Finally, please be considerate of residents' property rights and right to privacy when viewing burrowing owls in Cape Coral. Do not park in residents' yards or driveways or block traffic flow in City streets. You may contact the City of Cape Coral at [email protected] to request a map of recommended burrowing owl viewing locations
."