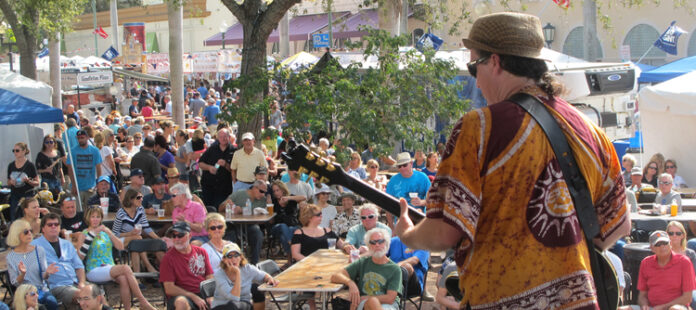 The 2nd Annual Fort Myers Seafood & Music Festival held on the waterfront in historic downtown Fort Myers is in full swing today, with a full programme continuing tomorrow.  The event is produced by Paragon Festivals in partnership with the Fort Myers River District Alliance.
Festivities began yesterday and continue today until 10pm and tomorrow 11am-6pm. General admission is free.
Visitors can enjoy a wide variety of foods cooked fresh onsite (seafood, meat, vegetarian)  with alcoholic, non-alcoholic and fruit drinks available..
While eating, festival-goers can listen to live musical performances on stage by some of Florida's top musical talents from such genres as R&B, jazz, rock, reggae and Caribbean sounds. including Fleetwood Mac and Aretha Franklin tribute bands.
There have been reports that the construction of the Luminary Hotel is making it harder to find a place to park for the event, with resultant traffic on Hendry Street. However, organisers have six dedicated lots for the event, and rerouting signs are in place.