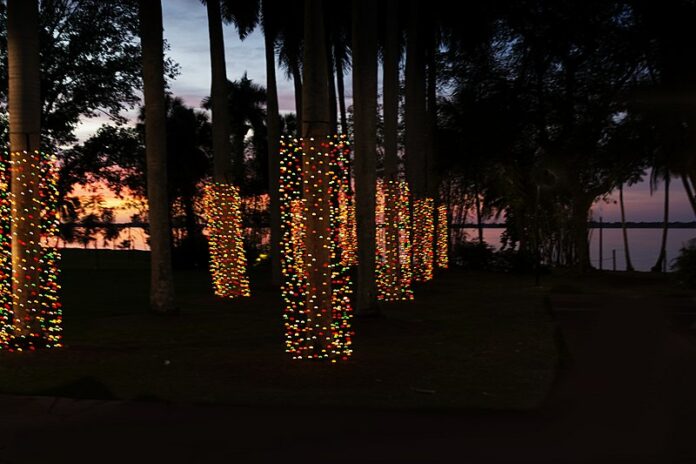 "We will make electricity so cheap that only the rich will burn candles." Whether or not Edison uttered these famous words, his invention of the world's first light bulb transformed towns, villages and homes. Fast forward 140 years and every December, light bulbs transform many residential streets in Florida. Where better to celebrate this festival of lights than the winter estate of Thomas Edison?
On Friday, November 29 at 6 p.m., Edison and Ford Winter Estates kicked off their 44th Holiday Nights celebration with a tree lighting ceremony and a special visit from Santa and Mrs. Claus.
Holiday Nights tickets for adults are $20, teens (13-19) $10, children (6-12) are $2 and Edison Ford members get in free. Guided Holiday Tradition Tours are $30 for adults, teens are $25, children $18 and $10 for Edison Ford members. This year's highlights include :
Fabulous Fig – The historic Mysore Fig tree on the Ford lawn will be covered in thousands of animated lights, set to traditional holiday music
Fountain Tree – One of last year's most popular decorations
River Walk – For the first time, lights will run the length of the riverfront
Orchid Lane – This iconic pathway will be lit with shimmering fairy lights as bold, colorful lights illuminate the towering trees
Santa's Workshop – Every Sunday, Santa Claus will pay a visit to the Edison Caretaker's House with kid-friendly craft activities from 6-8 p.m.
Holiday Tea with Mina Edison & Clara Ford at 6:00 pm Dec. 19 (separate ticket required)
Children's Holiday Tree Trail with handmade ornaments created by students from Lee County schools
Nightly Guided Holiday Tradition Tours at 6:00 and 7:00 p.m. (additional cost)
Inside the Homes Holiday Tour every Wednesday at 6:30 p.m. (additional cost, call 239-334-7419 to reserve)
Lee County residents with proof of residence receive a $5 discount off adult admission on Mondays and Tuesdays in December. All admission options include the estates, museum and laboratory; plan on approximately 2.5 hours to see the estates, museum, and laboratory, open until 9:00 p.m. during Holiday Nights.
The Edison and Ford Winter Estate is open daily through Dec. 30 with the exception of Christmas Eve and Christmas Day.