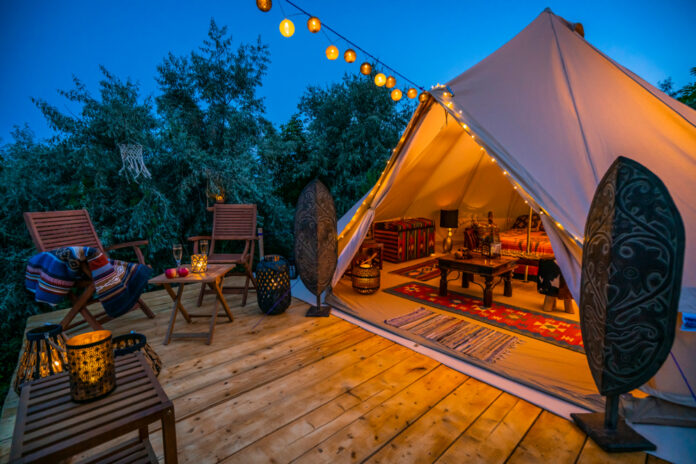 Glamping is a hybrid of the words glamorous and camping. Arriving at a "glampsite" and you can expect a few more luxuries than are traditionally associated with camping. You won't even need to pitch your own tent. Forget baked beans, wet ground sheets and cold bucket showers – glamping is all about hot showers and designer toiletries, good food and luxury bedding!
By Angus Wright
Now, more than ever, people are looking for ways to get away without leaving the country. One type of getaway which has gained a lot of popularity in recent years in glamping. Glamping is a luxurious form of camping, usually, visitors will stay in luxury accommodation such as large tents or eco-friendly pods.
In a time when more and more focus is being put on sustainability and people are thinking about their carbon footprints; glamping offers a green stay-cation to those environmentally conscious travellers.
With normal camping, you need to set up a tent, bring all of the cooking & sleeping essentials and anything else which you need for a trip. Glamping is different as you still get to spend your trip in nature but luxury comforts are provided.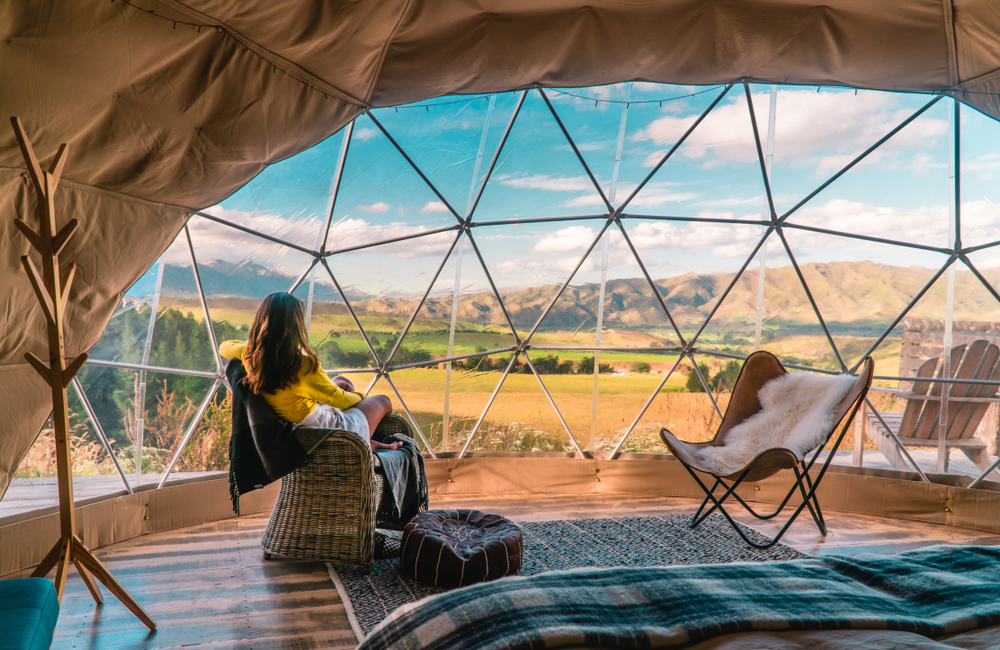 You don't need to bring a tent
Firstly, you don't need to bring a tent – the accommodation is already waiting for you, whether it's a tent, yurt, pod or something else. Most glamping facilities will also have a kitchen and toilet built in, generally, all will be eco-friendly as well. All rubbish will be recycled if possible, as will wastewater. Composting facilities will be available for food waste and even the toilets will be compostable and/or run off wastewater. Electricity may be sustainable as well with power being supplied by wind or solar methods.
On the luxury side, glamping facilities can offer everything from king-size beds to wood-fired hot tubs and even underfloor heating!
Glamping in Scotland
Scotland is a perfect place to go glamping, outside of the cities, you don't have to travel far to get back to nature. After spending the day exploring the home of golf and whisky, you can relax in your king-size bed in a safari tent or head out and spend the evening under the stars in your personal wood-fired hot tub.
Glamping combines the luxury of a hotel with all the attractions of camping. It has become so popular that even music festivals such as T in the Park and Glastonbury have added glamping packages for revellers who want to stay on-site without camping.
Thanks to the diversity of Scotland's environment, there are many places where you can go glamping. You could stay deep in the heart of a forest or on the banks of one of our stunning lochs. If you'd prefer you could go to a rural location and mix with the locals or stay out at the coast and try to spot some dolphins.
On top of the many luxuries and amenities offered, as well as being environmentally friendly, there are even more benefits to taking a glamping trip. Firstly, most glamping accommodations are pet friendly so your four-legged friends don't have to miss out on the fun! Glamping is also a budget-friendly getaway with a week in most places costing less than a couple of nights in a hotel!
Scotland offers an amazing backdrop for any staycation with pods, wigwams, safari tents and even treehouses located all over the country. There are accommodations available in Glencoe, perfect for recreating James Bond's famous pose from Skyfall while out for a scenic drive. You can also stay overlooking Scotland's and the world's most famous lake – Loch Ness!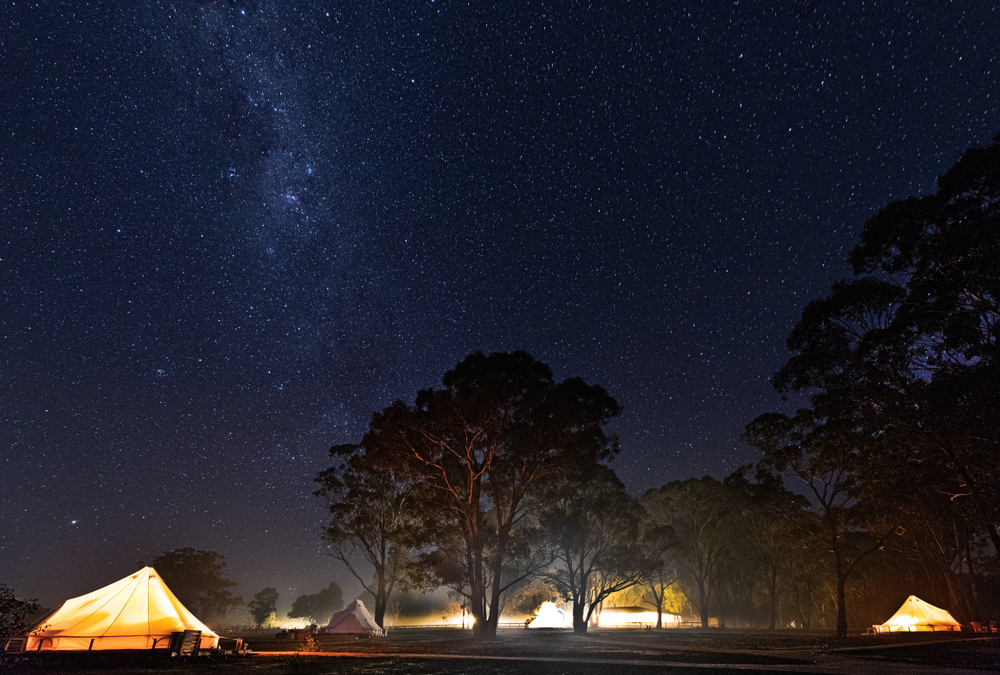 Tips for glampers
While there are many reputable offers for glamping accommodation, travellers need to be wary when booking their trip. Always ensure the place you are booking has a review facility so you can see other visitor's experiences to make sure you won't be caught out. Make sure to check what is supplied and more importantly, what isn't! For example, some places will require you to take your own bedding or towels and will not provide them. Also, be mindful if you are bringing pets with you and check the owners' pet policy, not only will some places not be pet friendly, others may charge extra for you to bring your furry family members. Finally, remember to tidy up after yourself! Some owners may charge a cleaning fee on top of your stay if they feel you have left the place in a mess. Also, you are still out in the wilds so don't leave anything lying about if you are eating or drinking outside – leave nothing but footprints!
When picking a glamping holiday, always look to match your accommodation to the season – pods are better than tents in the winter! Remember to check the reviews and read the small print to make sure you won't be caught short on arrival. While there aren't many stories around about people being ripped off on glamping trips, make sure you do your due diligence.
If you are looking for a break from day-to-day life and can't decide on what to do for a break, definitely consider glamping! It is a fantastic way to have a relatively cheap, eco-friendly holiday in natural surroundings, with all of the luxuries of a hotel. I went glamping myself last year and would highly recommend it! We had amazing views over loch Lomond, a hot tub out the back of our pod and even a wood burner inside for cosying up in the evenings!
Whether by a loch, in the woods, overlooking the sea or in amongst some farms in the countryside, glamping is an experience like no other, giving a unique way to see all that Scotland has to offer. There will always be plenty to do near every glamping site whether you are interested in hillwalking, cycling, golf or whisky!
Have you ever been glamping? Let us know! We'd love to hear about where you went and what your experience was like!