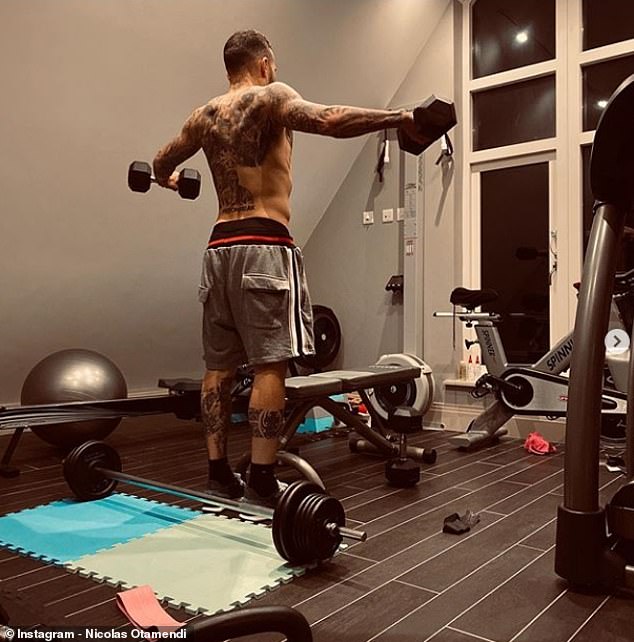 How have the elite football players of the Premier League being keeping fit during lockdown?
By Phil Taylor
With the Premier League edging closer to a dramatic return the question remains how have the players managed to stay fit during the lockdown process and how  have the coaches been able to keep a close eye on how they have been keeping up with the standards of the club.
Coronavirus has affected the entire world but Great Britain has been hit more than any other country for one reason or the other. With countries such as Holland and France cancelling their football seasons it looked like there would be no return for the English game. However, with Germany announcing the league would be resuming and Spain returning to training it looks likely that the Premier League will push for a return sooner rather than later.
Rightly or wrongly the Premier League looks set to return behind closed doors and players will return to training. Many feel the return is being rushed for the sake of money yet many feel it has to return so the integrity of the league is continued. The last time a league season was cancelled was the 1939/40 season with the outbreak of World War Two and surprisingly Blackpool were top of the league after three games.
So, with the return looking imminent it is paramount that the players are fighting fit for a final run in with many European places and relegation places to be decided but how are the players being monitored? Ultimately it is left to the players on how they are training and keeping their bodies in prime condition but under guidance from the coaches at the club. They are receiving constant updates from coaches at the club via email, video calls and text messages. Players at some clubs are required to submit results to the coaches and medical staff so that they can be monitored accordingly to make sure they are hitting required targets.
Players have been seen over social media, posted by themselves or their club, showing off their workouts whilst running on a treadmill or cycling on a bike showing how much of a sweat on they have. Players such as Marcus Rashford and Jesse Lingard from Manchester United have both been spotted posting their exercise routines either on the bike or in their home gym. With the millions of pounds in the game, Premier League players are able to stay fit easier than players in the lower leagues, especially when their mansions boast home gyms and swimming pools.
Coaches have also given players regimented menus for their nutrition as despite the workouts they have been doing, they will not be burning as many calories as they do in a regular training routine with a mix of fitness and tactical sessions. It is paramount that players take more care with what they eat during the pandemic so that they do not return out of shape and unfit.
Another aspect clubs have to monitor is the mental health of their players because with players unable to attend training sessions at the club, it can feel like they are just recovering from injury as they spend so much time in the gym rather than doing what they do best which is playing football. It is well known that a lot of footballers need the camaraderie and that element of competition to keep them ticking over and keep their mental health in a good state.
Scott Davis, a personal trainer who has worked with athletes in a variety of sports and focused on the mental toughness of footballers when earning a degree in psychology, analysed the aspects and challenges that players will have to overcome,
"The big issue will be motivation, because nobody knows when the start date will be again. Usually, you have the season opener [a fixed start date] or a particular match to be ready for, but it is all very open-ended right now. Lack of motivation is only one of a number of responses: others could be sadness, irritation, frustration at not being able to play. It's all down to the personality of the player. But it is interesting to see players like Marcus Rashford and Phil Foden, even Lionel Messi, doing the toilet roll kick-up challenge and Alex Oxlade-Chamberlain doing the stair-dance challenge. Keeping occupied is a coping strategy."
He followed this up by stating the importance of a good mental health state,
"A worst-case scenario is depression, and clubs should be helping players who may be falling into a downward spiral with psychological help. Developing coping strategies and routine will help. Now more than ever, the whole team — not just the players, but the back-room staff and support staff — become very important."
Many players have been playing with a ball in their back garden to keep the skills in check. But, that is not going to cut it if the Premier League is going to return because if that was the case I think I could do a few gym workouts and kick a ball in my garden and be convinced that I might be ready for a Premier League game.
This frustration has led to several players flouting lockdown rules; I am not looking at Jack Grealish and Kyle Walker, they have allegedly flouted the rules for worse reasons than staying fit. Tottenham Hotspur have been big culprits for ignoring the rules that have been set upon them by the Government. There have now been three incidents of Spurs not abiding by the lockdown instructions including manager Jose Mourinho leading a one-on-one training session with Tanguy Ndombele. Ryan Sessegnon and Davinson Sanchez were pictured running side by side in early April and now Serge Aurier and Moussa Sissoko have followed suit.
This serious breach of lockdown was rightly criticised and London mayor Sadiq Khan stated how these players were poor examples. However, many players have been following the rules and been shown to supporting the NHS and the people of Britain.
The ultimate thing to remember is that when players do return to training there will be a major difference in how they train, interact with their teammates, how the staff will have to act around them and how they live their life after every training session (or game). It will be a tough situation mentally for a player to deal with and one that could ultimately be the wrong decision if they were to return to early.
Photo © Nicolas Otamendi/Instagram