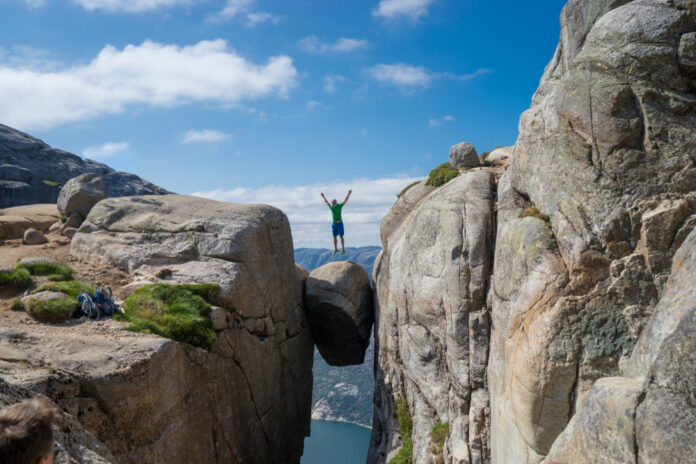 Kjeragbolten has to be one of the best hikes in Norway. It is a challenging hike, known as the Kjerag Hike, which takes you 1000 metres above the sparkling turquoise fjord below. And for explorers who reach the top of the hike a unique challenge awaits – a lone boulder lays wedged between two rockfaces just waiting to be conquered by adventure seekers. That boulder is Kjeragbolten, otherwise known as Kjerag Boulder or Kjerag Bolt.
By Angus Wright
Kjerag or Kiragg in Norway is one of the most popular hiking destinations in Scandinavia, if not the world! People travel from all over to the mountain for a variety of reasons. Some hike, some climb and some even BASE jump from it's northern cliff face! A big attraction for visitors is the Kjeragbolten, a 5-cubic-metre boulder wedged between two sheer faces.
For those wishing to hike up Kjerag, the main and easiest ascent begins from the visitors' centre – Oygardsstolen. With Kjerag standing at 1,110m (3,640ft), this route typically takes 2.5-3 hours each way. Depending on snow conditions, the best time to visit for hiking is June to September depending on snow conditions.
How to get there
If you are planning a trip from Scotland, there are a few ways to make your way there. The quickest way to get across is to fly to Stavanger with direct flights going from Aberdeen and Edinburgh, this is the most convenient option for those looking to get away for a short trip. If you do not want to fly then you will need to travel to England to get a ferry across the North Sea.
Once you arrive in Stavanger, you can make your way to Kjerag by car; taking either the ferry to Lysebotn or driving through the mountain pass from the Sirdal valley to Lysebotn, the trip takes roughly 2 hours (each way). Take note, both roads to the trailhead are closed from November through to the end of May due to snow and icy conditions. If you do not want to drive and instead fancy taking in the full beauty of the fjords then you can get a ferry to Lysebotn and from there get a bus up to Oygardsstolen.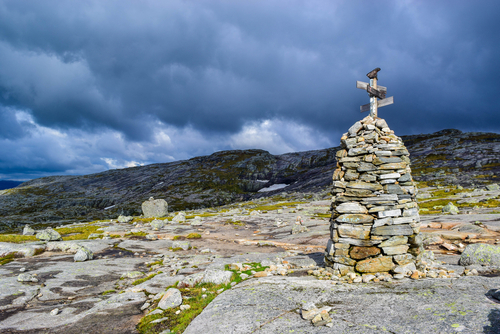 Tips for hiking
When hiking, always remember to check the weather forecast and plan accordingly. If there is snow on the mountain then it is advised to either abandon your ascent or take a guide with you if you still wish to proceed. Make sure to wear sensible footwear (i.e. hiking boots) as the trail is very rocky and good grip is required for several parts of the climb. Always take warm clothes, food and drinks – walking poles can also be a great help, especially if there are difficult conditions expected on the day of your trip.
Another interesting point to look out for on your trip to Kjerag is an unexplained phenomenon, first witnessed by a surveying engineer in 1855. He recalled: "I first heard a few bangs that gradually became more frequent and stronger, then I heard a terrible noise as I witnessed a beam of light shooting horizontally out from the rock and into the middle of the fjord, where it dissolved and vanished." No one knows for certain what causes this but locals believe it is a product of water being forced out of the mountain.
While hiking up mountains has its own inherent dangers, these are elevated when it comes to Kjerag. Not only do you have the usual risks of loose footways, falling rocks and bad weather, you also have the cliffs to the north with a sheer drop of nearly 1000 metres and of course the challenge of balancing on Kjeragbolten. For most of Kjerag's visitors, snapping the perfect photo on top of the boulder is their main reason for making the trip!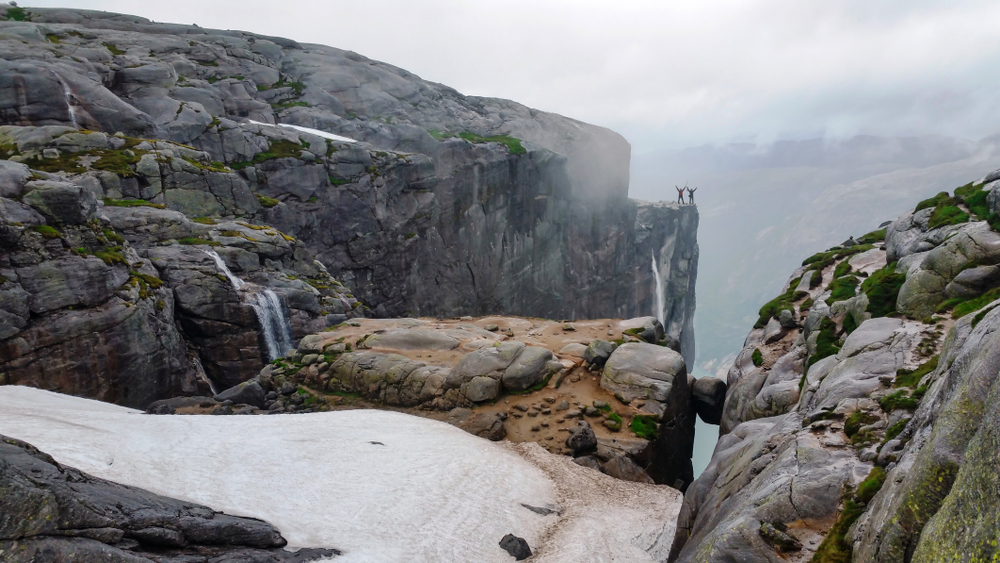 A long way down
Although there are no reported deaths caused by falling from the stone, there are many accounts of people coming close with some fighting to get their balance after jumping up for a mid-air shot! Others struggle just getting from the dangerous narrow ledge to the rock itself with some people apparently not paying attention and getting their feet caught in the rope which is meant to help you get up.
While some go for the photos, others travel to Kjerag for an adrenaline rush. The northern cliff is popular with BASE jumpers with adrenaline junkies travelling from all over the world to throw themselves off the edge. The first recorded base jump from Kjerag was in 1994, since then more than 50,000 people have jumped from the cliff top. Sadly, over the years, 12 base jumpers have lost their lives there.
While some choose to jump off of the north cliff, others choose to scale it. There are a number of technical routes traced up the face, giving a serious challenge to those looking to climb the 3,600-foot-tall wall.
Room to Roam
As with Scotland, Norway operates a policy similar to "Room to Roam" where visitors are free to travel over public and private land as long as they remain respectful of their surroundings. If you do visit Kjerag, bear in mind there are no rubbish bins and they operate a take what you bring policy in order to keep the mountain clean and clear for everyone.
In the Instagram age, places like Kjerag are becoming top destinations for those looking to get photo ops to share with their online following. Not only does Kjeragbolten offer a unique spot to visit, there is also the stunning view over the fjords below and the Kjerag. With the harbour town of Lysebotn also nearby providing another area to explore, Kjerag is a fantastic destination for planning a trip – just watch out for the crowds!
Have you been to Kjerag? Did you brave the Kjeragbolten? Let us know, we'd love to see your photos from the top!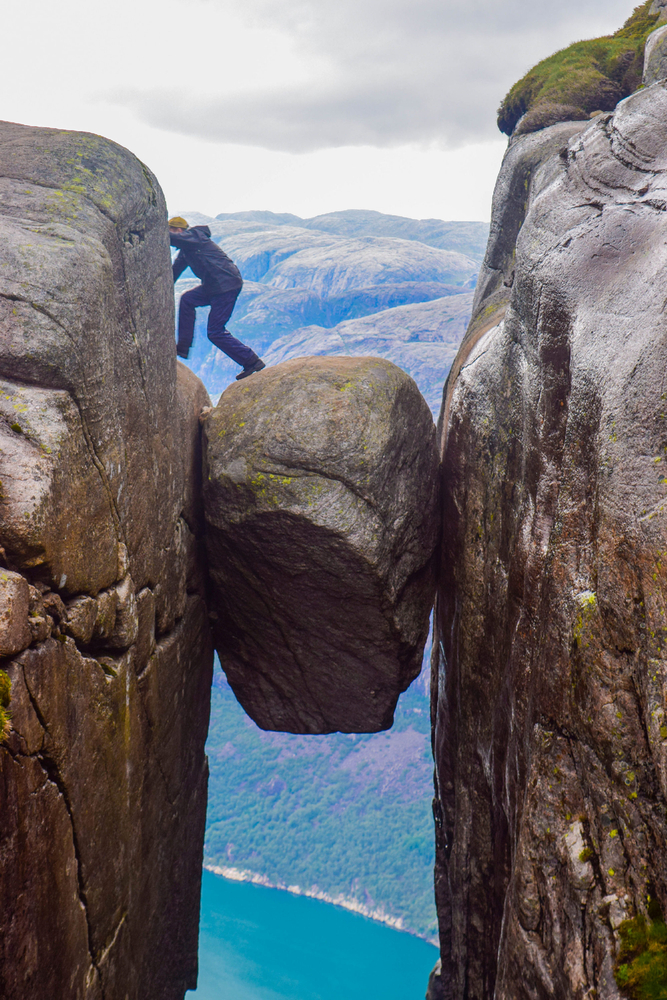 ---
Photos – Shutterstock