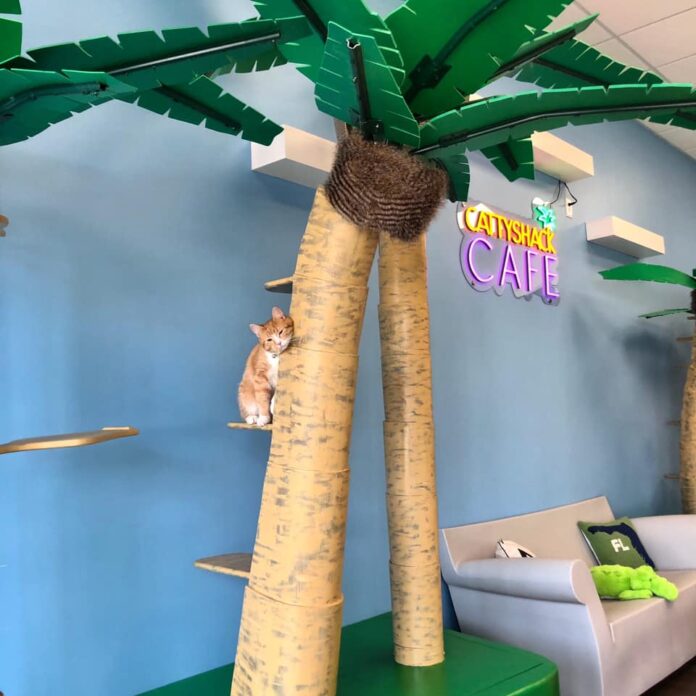 It was scheduled to open in January, but permit delays and a global pandemic delayed the opening of SW Florida's only cat café to June.
Last week, however, the Gulf Coast Town Center café was finally able opened its doors and welcome its first customers.
The Cattyshack Cafe is a coffee shop and lounge with a separated area (Mulligan Room) dedicated to interacting with adoptable rescue cats and kittens. The entry fee into the Mulligan Room is $15 per person for a 50 minute reservation.
Almost everything is cat themed from the drinks to the decor.
Owners Andrew Townsend and Amber Redfern visited 20 cat cafes in six states and saw what worked and what didn't work. They then put those lessons to use in Cattyshack.
Lee County has an issue with feral and unwanted cats and kittens awaiting adoption. Cattyshack cafe seeks to address this problem and according to their website there has been quite a few success stories in the first few days of opening with a total of 49 adoptions in the first four days including kittens, adults and even a 9 year old senior, Kiki.
It is not just the cats who the owners hope will benefit from visiting the café – owners Andrew and Amber hope that humans will see benefits too. They hope that renters will find solace in sharing a coffee with a feline companion if they can't keep a cat at home, and also claim it is a very relaxing place for those seeking some peace and tranquility. Not to mention that it is a unique venue for business events.
Cattyshack Cat Café is located at 9901 Gulf Coast Main St., Suite D-140, in Gulf Coast Town Center, near Outback, Sports Clips and The Cigar Bar. To learn more, visit facebook.com/CattyshackCafe or cattyshackcafe.com.
---
Title photo – Facebook Cattyshack Cafe