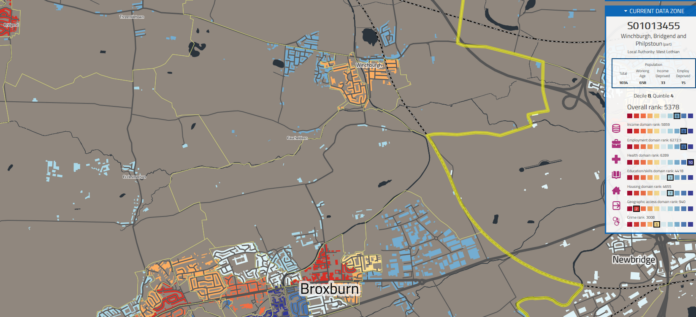 Winchburgh is shown as a village divided by wealth in an online map released this week by SIMD, but also the research has shown a much improved outlook in terms of deprivation reduction since the map was last produced in 2016.
The Scottish Index of Multiple Deprivation (SIMD) report for 2020 was released this week and shows that parts of West Lothian are in the country's top 10 least-deprived areas.
The least deprived area in the 2020 statistics was Stockbridge, in Edinburgh.
The index splits Scotland into 6,976 areas – or "data zones" – of roughly equal population.
More than 30 indicators of deprivation are grouped into seven 'domains,' made up of income, employment, education, health, access to services, crime and housing.
In Winchburgh, the map showed a sharp divide between areas of the village with new houses, and older parts of the village in the south and centre. However, the overall picture for the village is that of growth and a reduction in poverty, with no parts of the village now below 40%, shown in deep orange or red in the maps below. Parts of the village are now even entering the 9th decile, meaning into the top 20% least deprived parts of the country.
As the facilities and transport links bring further economic prosperity to the village, it is hoped that all parts of Winchburgh will be shaded blue on the maps below by 2024, meaning pockets of deprivation will no longer exist in the village.
Photos courtesy of SIMD. Access the online maps available here.