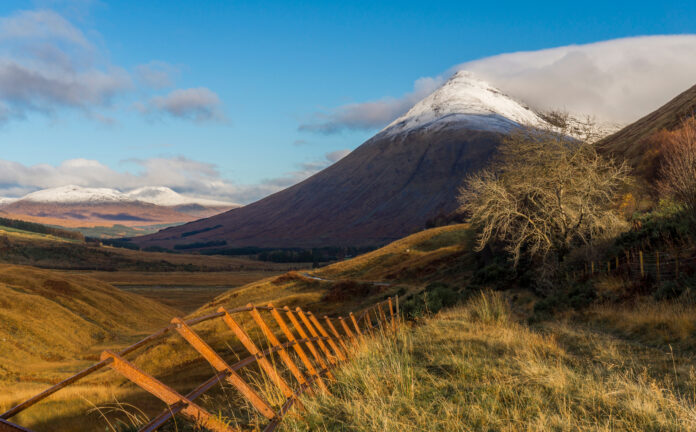 Four and a half weeks of endless exertion, nearly 300 mountaintops scaled, and finished with 48 hours of non-stop running – Donnie Campbell astounded runners everywhere by shattering the Munro running record by over a week.
By Andrew Cook
While Skye may be famously known for men called Donald wearing kilts instead of trousers, Skye-born Donnie Campbell has given the Isle something else to be known for – sheer grit, determination, and stamina. To those less inclined to the mountain running persuasion, a Munro is a Scottish mountain over 3,000 ft high, and Scotland contains 282 of these daunting heights. Donnie Campell has now climbed every single one of them in record time. During his attempt he climbed the equivalent of Mount Everest 14 times, ran 883 miles (1,422 km), and cycled 896 miles (1,443 km).
As if this unimaginably gruelling task wasn't difficult enough, his name is now being whispered with awe among mountain running circles as he completed the entire set a week earlier than the previous record holder.
The previous record holder, Stephen Pyke, had held the record since 2010, clocking it at an impressive time of 39 days and 9 hours from start to finish. Donnie Campbell blew everyone away when he completed his race with only 31 days and 23 hours.
After 12 months of planning his attempt, and having previously scaled several individual summits, Donnie Campbell set off with the support of his wife (to act as occasional camper van driver) to achieve the impossible. Ultramarathon runner Donald Sandeman of Edinburgh, stated that the Munro attempt is 'the toughest challenge that's ever been done in the UK, physically, mentally and logistically'.
During his 31 days and 23 hours of near constant exertion, Donnie Campbell burned over 7,000 calories every single day. Due to the intense battles he faced Donnie stated 'I was pushed to the limit every day with no reward at the end of each day as I was nowhere near the finish'. This eventually changed as the end grew near, as Donnie Campbell ran for 48 hours without pause to complete this arduous battle.
Despite the constant draining fatigue, Donnie did not have to suffer the normal ailments that most Munro candidates face. He suffered no blisters, nor any hallucinations – an incredible testament to his focus, not to mention his running shoe quality.
His attempt has left athletes and enthusiasts in amazement. Ian Beattie the Scottish Athletics chairman payed his respects – 'There is no question that what he has done is very remarkable and shows exceptional strength and endurance. It's just incredible'.
The Munro Tradition
The Munros are so named after Sir Hugh Munro, an original member of the Scottish Mountaineering Club. Personally visiting, measuring, and calculating every mountain top across Scotland using maps and barometers, he compiled a great list of all the Scottish mountains. In 1891 he published an article for a journal listing 538 summits, however only 282 of these were over 3,000 feet. Henceforth they were listed as 'Munros'.
The earliest posited 'Munroist' was Reverend A.E Robertson of Rannoch in 1901. However this completion is sadly unconfirmed. The first confirmed 'Munroist' is Ronald Burn, who succeeded the lengthy completion in 1923.
At this point in history however, 'Munroing' was not a particularly popular or well-known pastime. It was until 1974 when 'Hamish's Mountain Walk' was published. The author, Hamish Brown, documented his four month solo journey around Scotland's Munros, what must have been an arduous, yet breathtaking landscape to gaze upon.
The Munro-bagging tradition is alive and thriving, and many an outdoor enthusiast attempts one or two in their spare time, but the Scottish Mountaneering Club maintain a strict listing on who is actually deemed to have scaled every single Munro. As of July 2020, a grand total of 6,768 are classed as fully fledged Munroists, with more and more qualifying for the lofty title, and mountaineering kudos every single year.
Once you start you cannot stop, as proven by certain Munroists. Whether it is the beautiful views from the summits, or the pleasure of the gruelling exertion, the activity has become addictive for some. As of October 2019 a Munroist named Steven Fallon holds the record for completing a full set of Munros an astonishing 16 times.
So can anyone do it?
Absolutely! While many Munros are considered harsh, dangerous, and not to mention incredibly exhausting, there are many others that are pleasant and navigable to first-time Munro-baggers! A perfect example of this is Ben Lomond. The southernmost Munro in Scotland has scenery to match the beauty of the song it inspired. Ben Lomond's paths are well maintained, and can begin your journey to earn the title 'Munroist' while gazing upon the bonny bonny banks of Loch Lomond.
Not to say that Munroing is completely risk free. Experts and enthusiasts do have clear warnings to the risks involved in these endeavours. A novice mountain runner must have clearly researched their destination first, and be prepared with maps, a compass, and plenty of clothing. However, with planning, and crossed fingers for decent weather, Munroing can be as simple as it is satisfying.
This land of mist and cloud, of deep valleys and verdant forests. Only Munro-baggers can truly witness the grandeur and beauty of the landscape from the mountaintops!