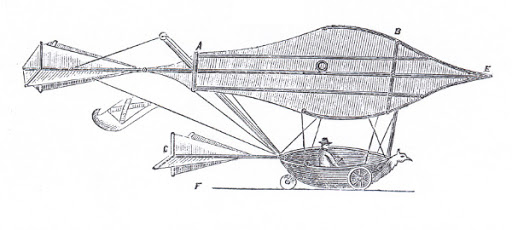 As SpaceX and Nasa embark on a historic launch into space today, it is often forgotten that the pioneer of flight was not an American, but a Yorkshireman called Sir George Cayley. He identified the four aerodynamic forces of flight: weight, lift, drag, and thrust. Most famously he was the first people to design and build a working glider that could carry a man.
By Bev Cleary
American flyboys Wilbur and Orville Wright may be known the world over as the aeronautical pioneers who paved the way for humankind to soar into the skies.
But the true Father of Aviation just happens to be a Yorkshire engineer who successfully launched the first ever manned flight amid a lifetime of research and experimentation.
Sir George Cayley achieved this amazing feat of aeronautical engineering half a century before the famed Wright brothers lifted off terra firma in their 'flyer' for some 12 seconds over a modest 120 feet.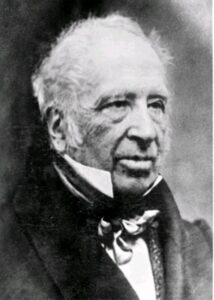 The Scarborough gentleman, a Member of Parliament, a Baronet, scientist and engineer, is credited with inventing and achieving the first ever manned flight in 1853, using a glider heavier than air.
But, it would seem that today, and especially in the country of his birth, Cayley is lesser known among the general population for his airborne triumphs than he deserves.
Cayley's early achievements in aeronautics were well recognised by the Wright brothers in fact. They praised his work acknowledging that he set the stage for their own ground-breaking flight.
Indeed, according to the Journal of Aeronautical History, in 1909 Wilbur Wright is believed to have said: "Sir George Cayley, carried the science of flying to a point which it had never reached before and which it scarcely reached again during the last century."
Surprisingly, it wasn't Cayley himself, who made the first historic flight in 1853. The Yorkshire engineer was in the autumn of his years at the time.
As a result, he encouraged his coachman to take flight in the early experiment to fly across a small, shallow valley in Brompton Dale near Scarborough, thus making history as the first ever manned glider flight.
The story goes that the poor chap was so terrified by his ordeal that he immediately pleaded to be allowed to resign from service!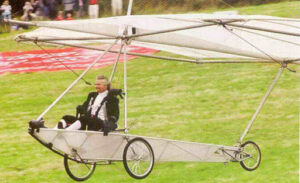 For the whole of his life, Cayley had been fascinated by the possibility that man could fly. He spent years studying birds and the principles of flight as well as how it could be possible for man to become successfully airborne.
His investigation focused on how the cambered shape, position and force of a feathered wing allowed a bird to soar so effortlessly among the clouds.
As a result, Cayley was the first person ever to identify the four aerodynamic forces of flight: drag, lift, weight and thrust.
His years of research left him in no doubt that man could never successfully fly by flapping his own wings like a bird, but some aspects of the natural avian blueprint could be exploited in the design of aircraft.
He realised that the answer lay in investigating how an aircraft could be made to fly although it was heavier than air.
Cayley was born in 1773 in Scarborough and came from a privileged and noble background.
He grew up on his parents' estate at Brompton Hall and benefited from an education provided by the best of respected academics.
Cayley even fell in love with, and married, Sarah Walker, the daughter of one of his esteemed tutors. He also fell in love with the possibility of flight.
During his youth, Cayley designed and constructed countless models to help him investigate powered air travel. As he matured, his investigations explored ornithoptoring (flight by the flapping of wings), propulsion and vertical aeronautics.
In 1799, Cayley engraved two of his earliest, and most recognised, designs on a silver medallion – one a monoplane glider and, on the other side, a diagram exploring the different forces that are applied during flight.
The simple glider engraving features a fuselage and even a cockpit for the pilot. The overall design bears a striking likeness to the machines that would eventually take to the skies more than a century later.
Ultimately, Cayley's desire to create a heavier than air, powered aircraft was seriously frustrated by the age in which he lived. The most powerful engines at the time were steam propelled but were far too large and heavy to apply to flight.
Cayley also explored balloon flight, which had been invented in 1783, and its value to a possible aviation industry.
He concluded that, to be of any real commercial and reliable travel use, balloons would have to be of an incredible size, large enough to contain the air needed for distance travel. In addition, they would need to be much less spherical and much more streamlined.
The first steam-propelled balloon airship was steered into the skies in 1852 but it wasn't until 1895 that Zeppelin patented the famous airship of the same name – nearly a century later than Cayley's aeronautical design first soared into scientific consciousness.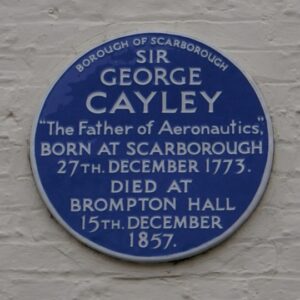 Some 20 years ago, The Journal of Aeronautical History (Paper No. 2011/ 6) declared that, although some have claimed that Cayley's achievements were not quite as extensive as initially thought, "he retains nonetheless immense stature as the Father of Aerial Navigation."
It also supports Gibbs-Smiths declaration that "if those who followed him had paid more attention to his findings then the progress of glider development, at least, would have been more rapid".
For years before his death, George Cayley had tried unsuccessfully to set up a recognised society dedicated to aeronautical research.  It was only after this death, in December 1857, that his great friend the Duke of Argyll managed to successfully set up the Aeronautical Society of Great Britain and allow Cayley's dream to come true.
In July 2003, the 150th anniversary of Sir George Cayley's successful manned flight of a heavier-than-air glider, the historic event was remembered by modern day British aeronautical champion, Sir Richard Branson.
The entrepreneur was dressed in 19th century attire for the commemorative flight, organised to draw attention to Cayley's achievements. Sir Richard was catapulted into the air, in a full scale replica of the Cayley Glider.