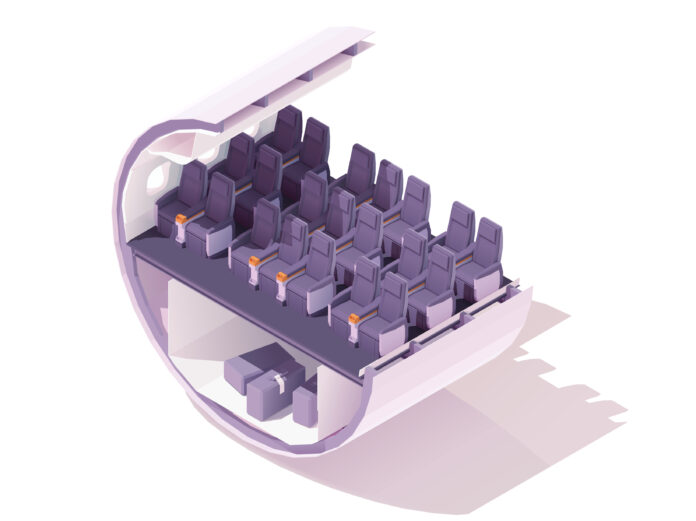 The coronavirus pandemic is a crisis for the airline industry, but it is also an opportunity to reevaluate the design of the passenger experience and totally re-think seat design.
By Bev Cleary
Ever had that 'sinking' feeling when you find out that your airline seat is the 'dreaded' middle one? Let's face it, many of us have been there – quite literally.
Now, thanks to the Coronavirus pandemic, the prospect of sitting in the middle seat, with no elbow room, restricted window view and no easy access to the aisle to escape to the loo, has become even more worrying.
Possibly flanked by two complete strangers, sitting on the middle seat affords very little, if any, chance of avoiding human contact during a virus pandemic.
However, thanks to the innovation of one American company, that dread could become a thing of the past.
Earlier last year, the Federal Aviation Administration, based in Washington DC, USA, approved the structural arrangements for the revolutionary, S1 middle seat design.
It could make the whole middle seat experience, a whole lot less nerve-wracking.
Hank Scott, CEO of Molon Labe Seating, the Denver, Colorado-based company that developed the design, told American TV show Today, that the company was obsessed with creating a "better middle seat experience".
Molton Labe Seating's designers set out to drop some of the middle seat's more unsavoury features from a great height. As a result, the newly devised middle seat will have an amazing extra three inches of space to improve comfort and allow the person sitting in it to use the arm rests – without having to, rather embarrassingly, fight for elbow room or apologise for doing it to those on either side of them.
The extra comfort space has been created by the innovative decision to set the middle seat just slightly lower to the ground. In addition, the window and aisle seats are a fraction higher than tradition has allowed.
Mr Scott added that the design will allow for seats of three different widths and heights, putting an end to the painful truth of decades that, when it comes to travel by aviation, "one size does not fit all."
However, it is not just the seating arrangements that may worry potential flyers. The whole experience of flying during the Coronavirus pandemic offers up a long list of worrying situations for those who seek to protect their health.
While airport terminals have done their best to provide ample opportunity for social distancing and suitable cleansing arrangements for example, once outside the main airport building, the experience has the potential to be much more distressing.
It is understood that many airborne travellers are most worried about the 'journey' from the airport terminal building to their aircraft seat. And it is the same for the process of departing from their aircraft at their destination airport.
Once safely buckled up in their seats and with the aircraft engine running, passengers are surprisingly safe when it comes to picking up airborne infections, including the Coronavirus.  That's because air in the cabin is refreshed every five minutes on average using HEPA, hospital-grade filters which remove almost 100 per cent of bacteria and viruses attached to air droplets.
However, getting to that stage can be fraught with perceived infection risk.
As they move from the airport terminal to the aircraft, passengers often find themselves less than 2 metres distance apart from each other, despite reminder notices.
The walkways or jet bridges, used to help passengers proceed to their long haul flights aboard larger aircraft are often covered for protection from the weather or involve passengers moving in close proximity.
Then, once onboard, passengers are often in poorly ventilated spaces such as the aircraft's aisle, unable to avoid close contact, while they stand in line and wait for others to find their seats and settle in, or store luggage in overhead lockers.
Now, however, thanks again to the Coronavirus, many aircraft are taking off with many fewer passengers than their capacity normally allows.
In addition, some carriers are blocking middle seats on some flights to allow for social distancing. According to a recent article in the Washington Post, these airlines have included, at some point, Delta, Southwest, JetBlue, Alaska Airlines and Hawaiian Airlines at some point.
Indeed, several USA-based airlines have even allowed passengers to move to empty seats within their cabin to allow for social distancing once everyone is onboard.
In contrast, however, in May this year, some European airlines argued that blocking seats would make flights financially unsustainable at a time when fewer people are choosing to travel by air.
Moreover, they maintained that the very nature of traditional aircraft design, originally aimed at fitting as many people as possible into an aircraft, meant it was impossible to allow social distancing of up to 2 metres while attempting to make air travel a viable business.
According to a BBC 'Worklife' article by John Walton, published in April this year,  if the 2 metre social distancing rule were strictly enforced on planes, for either business or pleasure travel, the principle would mean that every four socially distanced passengers, "would need 26 seats"!
Meanwhile, according to the article, some airlines have taken steps to ensure that their passengers face less infection risk. Such measures have included loading passengers from the rear door to the front so that no-one needs to squeeze past others who are already seated.
Other precautions include, boarding fewer people at a time, cancelling inflight refreshments or offering 'to-go-bags' as passengers leave the gate.
Now that scientists agree that the Coronavirus is with us to stay for the near future, innovators are focused on identifying ways in which travel can protect its customers from virus infection.
These include London-based PriestmanGoode, a renowned design studio and expert in aircraft interior environments and passenger experiences. According to company Director, Luke Hawes, Pure Skies, a recently launched 'vision' for airline travel, is a review of Business and Economy Class cabins, addressing pressing consumer, business and environmental concerns.
On the company's website he adds that Pure Skies "re-imagines Business and Economy Class cabins for a post-pandemic travel industry. Moving away from the notion of 'class', Pure Skies instead includes Rooms and Zones, adding that the concept has been developed around the three main factors: Personal space, Hygiene and a Touch-free journey."