This Pride Month we look at the case of Gavin Bell from Blackridge. Scotland was not unique in executing gay men in medieval times, but the number of recorded cases is astonishingly low. Baron Hume in fact claimed there was just two cases before 1889. He was wrong – records show another case, the case of the unfortunate Gavin Bell from Blackridge. What happened to him and why did Scotland execute so few gay men in comparison to England?
In 1889, Scotland became the last jurisdiction in Europe to abolish the death penalty for same-sex sexual intercourse, which reduced the penalty to life imprisonment in a penitentiary. But was Scotland equally as conservative in its approach to bringing prosecutions? Whilst the death sentence for sodomy was abolished in 1889, it seems it was rarely used. In fact, famed Victorian Legal Scholar Baron Hume wrote that "the crime is only mentioned twice in the course of our records", citing a double prosecution in 1570 and a single prosecution in 1630, all cases being punished by death. However, Baron Hume was wrong. There is another case from right here in West Lothian, the commission for the trial of Gavin Bell in 1645.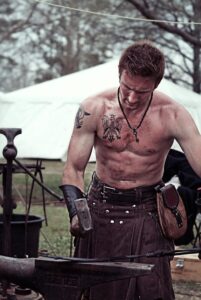 Gavin was an unfortunate apprentice blacksmith to John Thompson in Blackridge (Blackrig) who was caught having an unfortunate dalliance with another man. He was tried on 28th November 1645, for the 'flilthy crime of buggery' by Sir Robert Dummond of Midhope Castle (Medhope), found guilt and imprisoned in Linlithgow (Lythgow), after which he was executed. It is not known whether he was burnt at the stake or hung.
Commission to Sir Robert Drummond of Medhope
"The estates of parliament, haveing tane to thair consideration the motioune and desire made in parliament for granting commission for the tryeing and judging of Gawine Bell, prenteis to Johne Thomsone in Blakrig, wha is committed and imprisoned as guiltie of the vyild and filthie cryme of buggurie, they have given and granted and heirby gives and grantis full power and commission to the provest and baillies of Lythgow and Sir Robert Drumond of Medhope, knyght, (or anie thrie of them, the said Sir Robert Drumond being ane of the thrie) to sit as justiciaries in that pairt within the tolbuith of Lythgow for tryeing, processing and judgeing of the said Gawine Bell anent the committing of the vyild and filthie cryme of buggurie. With power to them to creat and choose ane clerk and uthir memberis of court necessar and to caus warne and sumond ane assyise and inqueist and witnesses and ressave all uthir probatioune necessar and to doe and exerce all uthir thingis requisit concerneing the tryeing, processing and judgeing of the said Gawine Bell for the foresaid filthie and vyild cryme of buggurie alse frielie in all respectis as the justice generall and his deputtis might doe thairin if the said delinquent wer cisted before them; as also with power to the saidis persones abonenamit as justices in that pairt foresaid to put the sentence and doome to be given in the said matter to dew executioune, conforme to the tenor thairof, quhairanent the estates declaires thir presentes salbe a sufficient warrand."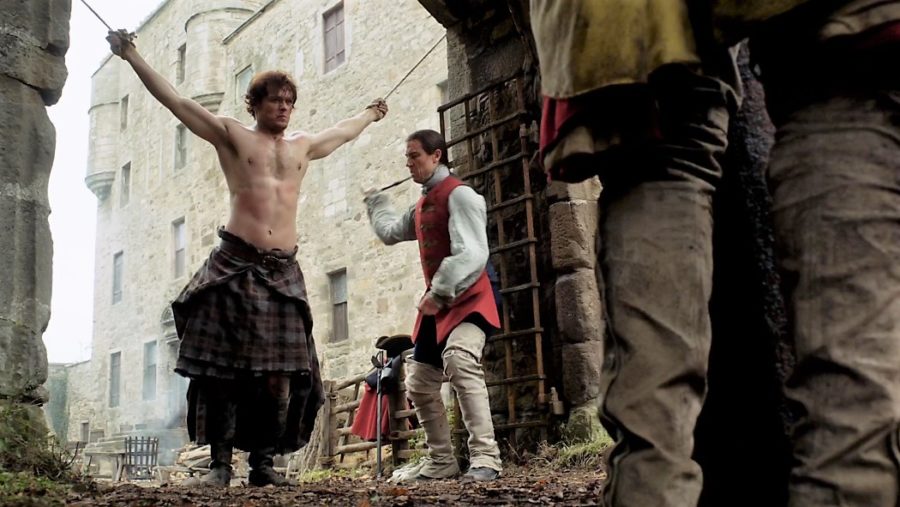 Why were there so few executions for homosexuality in Scotland?
In context, Scotland had far fewer capital crimes than neighbour England.  In the early nineteenth century England had over 200. Scotland had less than 50. There was some awareness, and even pride in, Scotland's lesser use of hanging than their southern neighbours.
Even for crimes with a capital punishment, there seem to have been very few executions, though there is little surviving evidence. If found guilty most men were transported or imprisoned. From 1800 onwards there were no executions for homosexuality. Yet for other capital crimes there was a large increase in executions between 1780 and 1820.
In the first half of the nineteenth century there were, on average, six sodomy trials a year in the High Court. As Scotland's population grew the trials increased to about twelve a year after the 1860s. In 1872 there were twenty two High Court prosecutions. The sentences given were between one and fifteen years imprisonment. These numbers are quite small compared to other capital crime statistics. This is because the majority of cases of sexual activity between men were tried in the lower Sheriff courts.
In the Scottish legal system the process gave the defendant a better chance of the case being heard in a lower court or a reduction of the charge before the trial started. This was usually on the condition that the accused be either banished from Scotland or transported, thus evading the death penalty. Transportation to Australia stopped in 1868.
In England many prosecutions were for private acts of sodomy. This was very rare in Scottish law because of the need to provide two forms of evidence. Most prosecutions were for public acts.
Attitudes towards homosexuality at the time
We do not know much about popular attitudes to same sex desire in the past. We do know  opinions of some of the lawyers who defined sodomy. They linked it with other serious crimes such as usury, bigamy adultery and incest. Sodomy was also associated by others with heresy and witchcraft. Indeed the two cases of 1570 linked sodomy with witchcraft. To the Scottish medieval mind, if covens of witches could stop a village's crops growing, they could also stop the village's menfolk bringing forth heirs.
Scotland has long prided itself on being a tolerant and liberal country. Whether these attitudes were also prevalent in medieval times is open to debate but it can be argued that the Scottish judiciary at least showed a far more lenient approach to sentencing than elsewhere in Britain.
Attitudes today
In both 2015 and 2016, Scotland was recognised as the "best country in Europe for LGBTI legal equality". In June 2018, the Scottish Parliament passed the Historical Sexual Offences (Pardons and Disregards) Act 2018, a law which issued a formal pardon to men, living and dead, convicted of having consensual sex with other men before it was decriminalised. Maybe it is finally time to lay the ghost of the unfortunate Gavin Bell to rest, and offer him a formal symbolic disregard of his 'crime'; the crime of loving another man.