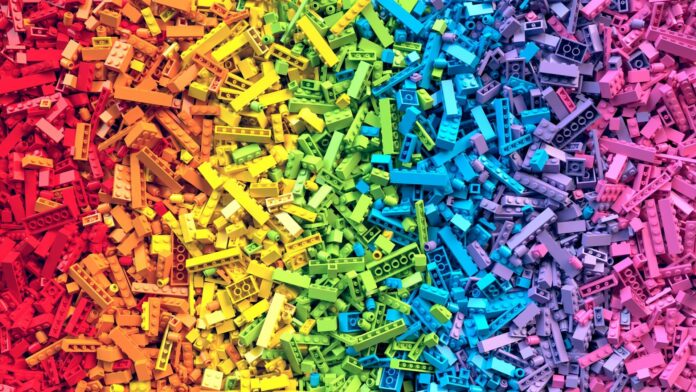 Admit it. Even as an adult, you have probably walked past a Lego shop and secretly wanted a set for Christmas.
The alluring plastic bricks account for millions in worldwide sales each year – to the extent that Lego is the world's biggest manufacturer of tyres!
Sets range from a few pounds in price, to the hundreds. But what is the biggest set of all time and how any bricks does it contain? Find out below…
#1 75192-1: Millennium Falcon
Pieces : 7424            Minifigures : 8            RRP : $799.99, £649.99, 799.99€
The size of the 2017 Millennium Falcon is simply epic. The first clue to its enormous size is in the packaging; it comes in a huge box weighing in at 15 kilos.
The modular build reportedly takes between 17 and 50 hours to complete, but with 17 bags of 7424 bricks and parts, this is hardly surprising.
As one AFOL (Adult fan of Lego) called 'Alfredoftwo' wrote:
"All told, I'm glad I have this set. It was fun to buy in a rush of excitement, it provided a lot of enjoyable build time, and it looks absolutely magnificent on display! The sticker shock of spending $800 will wear off with time, and in the end I will be left with a true treasure.".
#2 10189: Taj Mahal
Pieces : 5922            Minifigures : 0            RRP : $299.99, £199.99
The original Taj Mahal, in northern India, was built in the 17th century in memory of an emperor's wife. It took 22 years and 20,000 workers.
The Lego model is recommended for experienced builders aged 14 and over but might not take quite so long to build as the original – fans reporting build-times of between 20 and 40 hours.
The model includes replicas of the minarets, domes and arches. Lego spokeswoman Jenny Brown said the Taj Mahal model was designed only for very experienced enthusiasts.
She added: 'It will certainly present a worthy challenge to most Lego fans – but a fun one.'
The model even had a celebrity fan – David Beckham is reported to have enjoyed building the set in between matches.
#3 10179: Ultimate Collector's Millennium Falcon
Pieces : 5197            Minifigures : 5            RRP : $499.99, £342.99
A firm fan favourite from the date of the set's launch in 2007 until its retirement. The set was the first falcon in the Lego range that was able to accommodate minifigures, and the 5 included with the set were a big hit. Fans also loved the build process, comparing it favourably to the 'flat and boring' Taj Mahal set.
Unlike other large sets, this one could also be played with!
#4 70620: NINJAGO City
Pieces : 4867            Minifigures : 19            RRP : $299.99, £259.99, 299.99€
The biggest Ninjago set produced, this set was more a display piece than a play item.
Fans particularly loved the variety of building techniques, the number of minifigures included and the visual impact of the set.
There were complaints, however, on the number of stickers this set employed – a total of 64, which were difficult to fix onto round pieces correctly without detracting from the aesthetics of the set.
#5 75827: Firehouse Headquarters
Pieces : 4634            Minifigures : 10            RRP : $349.99, £284.99, 349.99€
Ghostbusters meets Lego…what's not to like? This set has all the fun of the film with some fantastic minfigures, matched with a detailed architectural build of a classic New York fire house.
The set has three floors of fun and mayhem including a games room with pool table, a laboratory and even an arcade machine to keep the guys busy in-between hunting ghosts.
#6 10214: Tower Bridge
Pieces : 4287            Minifigures : 0            RRP : $239.99, £219.99, 219.99€
At over a metre long and taking 15-30 hours to build, this set is more display piece than playset.
And the set is gorgeous to look at. The microscale Routemaster and London cab are simply beautiful and bring the whole set to life.
In terms of size, the set does contain a lot of 1×1 pieces that boost the total. That being said, the end result is very impressive.
#7 10253: Big Ben
Pieces : 4163            Minifigures : 0            RRP : $249.99, £179.99, 219.99€
The second set to feature a London landmark on the top ten list. Big Ben features a detailed section of the Westminster Palace and the adjoining Elizabeth Tower, four detailed clock dials with movable hour and minutes hands, and a baseplate featuring a treelined garden and the river Thames. The set even includes a removable tower top to reveal a Big Ben bell inside!
#8 71040: Disney Castle
Pieces : 4080           Minifigures : 7            RRP : $349.99, £299.99, 349.99€
This huge set sold out quickly and almost immediately became a collector's item. It is easy to see why. The set is simply huge and combines the popularity of Disney with an epic build.
The Disney Castle measures over 29" (74cm) high, 18.8" (48cm) wide and 12" (31cm) deep. The set features a detailed facade with a stone bridge, clock, wide arched entrance, ornate balconies, spired towers, plus a four-story main building and a five-story, golden-spired main tower, both containing rooms with assorted Disney-inspired features and elements.
The set's main criticism from fans was on the lack of minifigures at just five, with two grey knights decorating the castle walls. However, the overwhelmingly positive reaction in the summer of its release and its limited availability since then suggests that it has proved extremely popular with fans around the world, as one might expect of such an enormous and impressive model.
#9 75159: Death Star
Pieces : 4016           Minifigures : 27            RRP : $499.99, £409.99, 499.99€
This set is only slightly larger in terms of number of pieces than Assembly Square but comes in at nearly twice the price. What really differentiates this set though is the sheer number of minifigures – at 27 perhaps a record in itself.
Some of the minifigures are also unique to this set such as 'Imperial Navy Officer', and 'Grand Moff Tarkin' which makes this set highly collectable.
#10 10255: Assembly Square
Pieces : 4002           Minifigures : 9            RRP : $279.99, £179.99, 239.99€
2017 marks the tenth year of the Modular Building theme and this milestone is celebrated by the release of Assembly Square. The set contains 4002 pieces and is therefore the largest Modular Building yet as well as one of the most impressive based on the exceptionally positive reaction to its announcement in October 2016.
Prices and listings correct as of January 2019