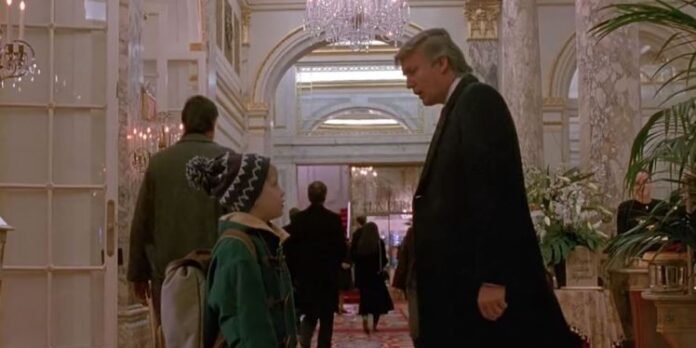 Donald Trump has made dozens of cameos in film and TV shows, as well as starring in his own reality shows. He has also featured in a surprising array of adverts and it was even reported when he ran for presidency that he appeared in a non-sexual element of a soft-core pornographic film in 1999 called 'Playboy Video Centerfold 2000'.
But there is one film with which most people associate Donald Trump. And it is not 'Video Centrefold'.
Chances are this Easter period you will have seen 'Home Alone' at some point. And chances are someone in your family will have pointed at the TV screen and said 'Isn't that…?' at the point of the scene where Kevin tries to navigate the hotel.
There are currently 13 films in which Donald Trump has either starred or made a cameo appearance. How many of these do you recognise?
#1 Zoolander (2001)
Zoolander and Zoolander 2 were films renowned for their cameos. Donald made a memorable but brief appearance, confirming he too is a Zoolander fan.
#2 Wall Street : Money Never Sleeps (2010)
This scene didn't make the final cut, but his acting skills seem to have improved since entry #5 !
#3 Two Weeks Notice (2002)
The flamboyant lapel might have been the star of this cameo!
#4 Celebrity (1998)
Despite some big names such as Kenneth Branagh, Leonardo DiCaprio, and Winona Ryder, and a cameo from Donald Trump, this Woody Allen comedy did not attain commercial success.
#5 Ghosts Can't Do It (1989)
This film won four Golden Raspberries and was nominated in a further four categories. And featured Donald Trump.
#6 The Little Rascals (1994)
'Waldo, you are the best son money could buy'.
#7 Small Potatoes : who killed the USFL? (2009)
'Back in the day, Donald put his total trust in me…'
#8 The Associate (1996)
Donald Trump has appeared in two Whoopi Goldberg films. In "The Associate," from 1996, he is seen waiting in a restaurant where Whoopi breezes by to get seated first.
#9 Eddie
Donald Trump now has so many cameos and TV roles, he now even has his own star on the Hollywood Walk of Fame.
#10 Home Alone 2 : Lost in New York (1992)
Oh go on then…