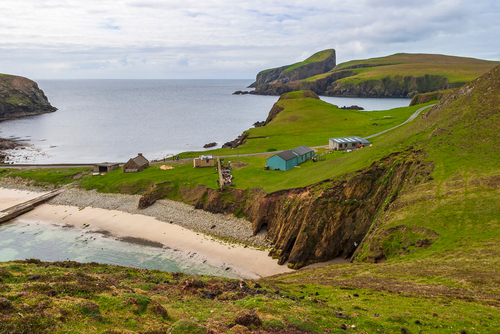 Fair Isle is officially the most remote island in Britain – it can also be challenging to reach and is totally bereft of pubs and restaurants; and yet, tourists flood to this slight island, positioned between Orkney and Shetland, annually in their hundreds. So, what is it about the isle that draws globe trotters towards this seemingly insignificant island?
By James McKean
What is the island known for?
Fair Isle is known, first and foremost, for its total remoteness. It lies almost directly in the middle of Britain's two most northern arpeggios, the Shetland and Orkney Isles, with no inhabited island within its vicinity – making it the most remote of all the inhabited British Isles. Despite its population of 65, the Fair Isle has a desolate allure about it; the two-and-a-half-hour ferry ride it takes to get there certainly adds to this feeling – as many feel they are nearing the edge of the world when journeying towards it!
The Fair Isle is also known to be a honeypot for birdwatchers; its remote positioning lends itself to being one of the main pit-stops for migrating birds in the spring and autumn seasons, and as a nesting place for seabirds during the summer months. The Fair Isle finds itself is in line with many migration routes, and is said to be amongst the best places in Europe – and definitely the best place in Western Europe – to catch a glimpse of the likes of Siberian passerines, arctic warblers, lanceolated warblers, and the ultra-rare thrush nightingale.
Fair Island is also home to two of Scotland's 209 working lighthouses, and one of Scotland's 282 Munros, Ward Hill, which, at an altitude of 217m, acts as the isle's highest point.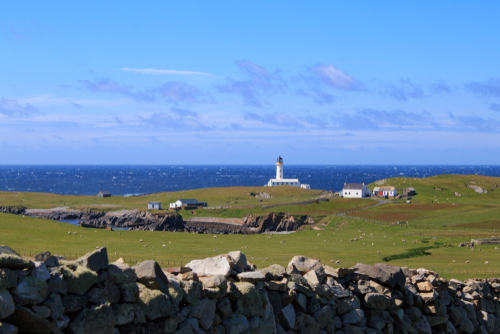 How to get there?
It is possible to travel to the Fair Isle either by sea or by air. By sea, the small ferry, the Good Shepherd IV, sets out from Grutness, south Shetlands, and sails to the Fair Isle and back again on Tuesdays, Thursdays, and Saturdays. During the winter, however, it only sails on Tuesdays.
By air, it is possible to fly via Shetland, with flights departing every weekday from Tingwall Airport, and also every Saturday during the summer. A weekly Saturday flight also departs from Sumburgh, from April to October.
What to see?
George Waterston Memorial Centre and Museum – The Fair Isle has a lot to thank George Waterston (1911-1980) for, but mostly for the island's popularity amongst birdwatchers today; Waterston, himself a conservationist and keen ornithologist, owned the island between 1947 and 1954, oversaw the opening the Fair Isle Bird Observatory Lodge in 1948, and remained the president of which until his death. His life and contribution to the island is commemorated in this museum, which also paints the fascinating history of the island through artefacts and display boards.
Fair Isle Lighthouses – Fair Isle boasts two lighthouses, the North Lighthouse and the South Lighthouse, which are both worth visiting and are of equal historical importance. Both were designed by the renowned Scottish engineering brothers, David A and Charles Stevenson, and were both first illuminated in 1892. The South Lighthouse is historic as it was the last to be automated, and the last to maintain its foghorn, in Scotland. The Fair Island Lighthouse Society conduct regular tours of each, which are both grade-II listed, wherein participants can learn of each structure's extensive history.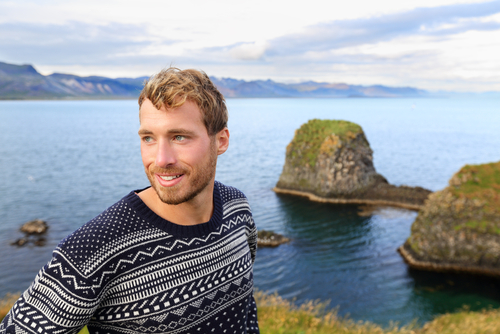 Fair Isle Knitting – With a number of independent makers and sellers of the world renowned Fair Isle knitting style still open and trading on the island itself, it is easy to pop in, watch a demonstration, and even learn how to knit the world-exclusive style. The biggest store on the island in which to find this is Mati Ventrillon Fair Isle Knitwear.
Hiking on Fair Isle – The Fair Isle – with its varied terrain of of moors, fields, and hills – is a great destination for walkers and hikers, with walks and hikes suitable for all levels and capabilities! Popular routes include the brisk and level 6km between the North Lighthouse and the Bird Observatory, the tough 12.75km hike between Malcom's Head and Sheep Rock, and the highly popular 4.25km Munro-clamber up the island's peak, Ward Hill.
Where to stay?
There are no hotels or hostels available on Fair Isle; however, there are several B&Bs and guest houses available throughout the island.
Recommended B&Bs and guest houses include the Buckle B&B, Auld Haa Guest House, Ms Kathleen Coull, Taft Guesthouse, and Springfield.
Unique accommodation can be found at the South Lighthouse, with rooms available that boast spectacular views of the surrounding rocky cliff edges and sea. For £75 per night, guests will receive accommodation in this historic lighthouse, along with breakfast, lunch, and dinner.
What are the challenges of travelling to Fair Isle?
Regular timetables, both for sea and air travel, can often be disrupted due to the often-unpredictable weather. Historically, there has been over 100 reported ships that have sunken before reaching the island's coast, mainly due to the choppy seas and mist that oftentimes pervades the island entirely. Of course, pilots and captains know what the best port of call is and will not fly or sail if the weather is deemed unsafe.
Despite all its merits, the Fair Isle is not a good destination for those seeking a social time. There are no pubs, restaurants, or cinemas onsite – so the Fair Isle may not be the best place for those seeking a cold pint, a gourmet meal, or to the latest blockbuster.
---
Note – You should always check current COVID restrictions ahead of any travel.