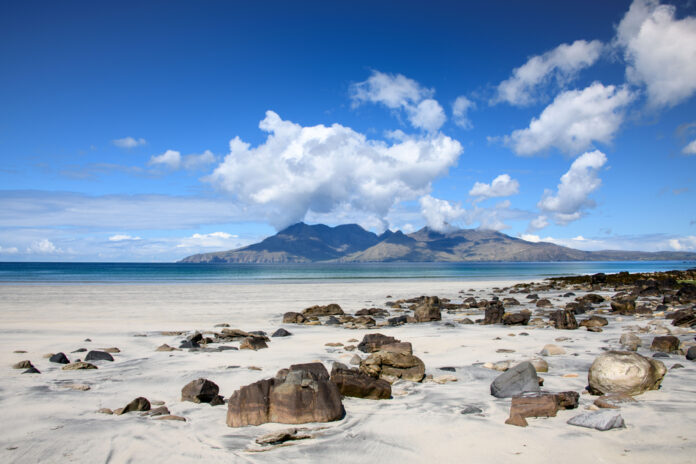 Despite being the biggest of Scotland's Small Isles, the Isle of Rum is the least populated island. The majority of its 25,850-hectare surface area lies uninhabited, with the entirety of its minor population of thirty-or-so people residing in the small village of Kinloch, which is located on its eastern shore. Despite its lack in residents, Rum remains a popular tourist destination, with plenty of places to stay and many things to do. Rum has been inhabited since the 8th millennium B.C and was home to the earliest known settlers of the whole of Scotland, so boasts a plethora of points of historical interest and ruins.
By James McKean
Isle of Rum – How to get there?
There are several ways to travel to Rum, each involving a ferry from either mainland Scotland or the Isle of Skye.
The most common way of traveling to Rum is aboard a Caledonian MacBrayne (CalMac) ferry, via the port of Mallaig. Calmac operates several ferry lines from Scotland to the Hebrides, including the MV Loch Nevis, which sails from Mallaig to Rum all year round; five times a week during spring and summer, and four times a week in autumn and winter. It is important to note that these ferries do not take cars.
It is also possible to hire a boat in Mallaig from a company called Minch Adventures, which is ideal for exploring Rum and the rest of the Hebrides.
The best way to reach Mallaig is via the A830 from Fort William. Alternatively, the West Highland Line offers train services from Glasgow and stops in both Fort William and Mallaig. Mallaig boasts a large car park near to the ferry terminal. Both local buses and Citylink Buses run between Fort William and Mallaig.
Rum is also reachable via the Inverness shire village of Arisaig during the summer months. The Sheerwater ferry operates twice a week and offers a return journey three hours after arriving.
It is also possible to visit Rum via Skye during the summer; Aquaxplore and Bella Jane Boat Trips both set off from the village of Elgol on Skye.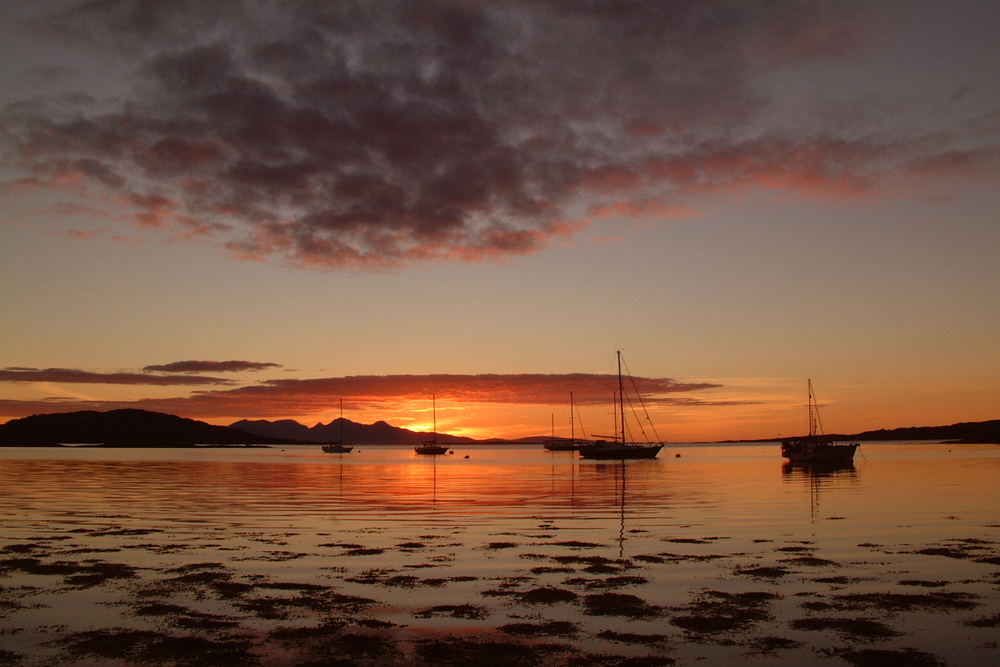 Isle of Rum – What to see and do
Kinloch Castle – The late-Victorian Kinloch Castle is the jewel of the island and is definitely a must-see while visiting Rum. Kinloch was constructed to serve as a summer retreat for former-Rum estate owner, George Bullough, who had inherited the island, alongside his tycoon father's loom business, in 1891. The castle was erected between the years of 1898 and 1901 and was the setting for Bullough's luxurious gatherings and shooting parties, while also serving temporarily as a place of refuge for those wounded during the Boar War.
Tours take place daily of this grand Tudor-style mansion, running from April to October, and can be enjoyed either as part of a daytrip to the island, or during an overnight stay.
Fishing – Fishing is permitted anywhere along the coast of Rum, in the stream Allt Slugan a'Choilich, and in the Kinloch Burn. Daily permits can also be purchased in order to fish in the lochs Papadil, Coire nan Gruund, Long, MacIvor, Fiachanis, and a'Ghillie Reamhra. It is strongly advised to avoid fishing in any of the lochs found on Rum that are not listed above, as they are sites of conservational importance.
Kayaking and Canoeing – Boasting 30-miles of diverse coastline, Rum has always been attractive to kayakers and canoers alike; with a range of beaches with calm waters to pause for respite. For those interested in the marine and bird life of Rum, kayaking is the best means of getting up-close-and-personal with the island's wildlife.
Cycling – There are several popular cycle routes that leave from Kinloch Village, however, unexperienced cyclists may face certain difficulty completing them, as the terrain is noted to be persistently rough – mountain bikes are highly recommended! Popular cycles include the 16km loop to Kilmory, and the 26km loop to Harris Bay; each of which make for good hikes, too. Bikes can be hired from Ivy Cottage in Kinloch and can be rented for the whole day.
Bird & Wildlife Watching – With the sheer mount of thriving wildlife present on the Isle of Rum, keen wildlife spotters are recommended to keep their binoculars handy! There are a few hotspots, however, throughout the island, where wildlife is said to particularly thrive: otters and seals are said to frequent the bay and Kinloch; eagles and greylag geese often fly over the Kinloch itself; while sandpipers and red-throated divers have been captured meandering around the shore.
Isle of Rum – Where to Stay
Bed & Breakfast – There are several B&Bs in Rum, all found in Kinloch, including Ivy Cottage Guest House, Bramble Bothy, and the Rum Bunkhouse.
Camping – Found on the shores of Loch Scresort, the Kinloch Village Campsite is positioned perfectly between all the main attractions of Rum – situated 10 minutes between both the ferry terminal and Kinloch Castle. A charge of £6 per person grants you access to the onsite toilets, showers, shelters, picnic areas, water supply, and washing up basins. This site also boasts two camping cabins for hire, with fully installed electricity, WIFI, and USB-plug points.
Mountain Bothies – For a more remote stay on Rum, there are two mountain bothies, located on Guirdil and Dibidil respectively, each featuring very rudimentary furnishings. In each, you'll find a stove, an open fire, and a few basic cooking utensils.
The Challenges of Staying on Rum
The Isle of Rum is remote and that can present its own challenges :
The weather can be famously treacherous, and like in the rest of Scotland, very unpredictable. It is advisable to check weather reports in the days prior to your trip, and pack clothing and footwear to suit.
There are no pubs or restaurants on Rum, so you'll need to pack plenty of eating and drinking supplies. The Rum Shop and Post Office sells only the very basics.
Midge season is known to be particularly irritating on Rum, so make sure you pack repellent!
Conclusion
Do not let the lack of pub put you off! If you are looking for amazing natural beauty and tranquility, you will find it on Rum.