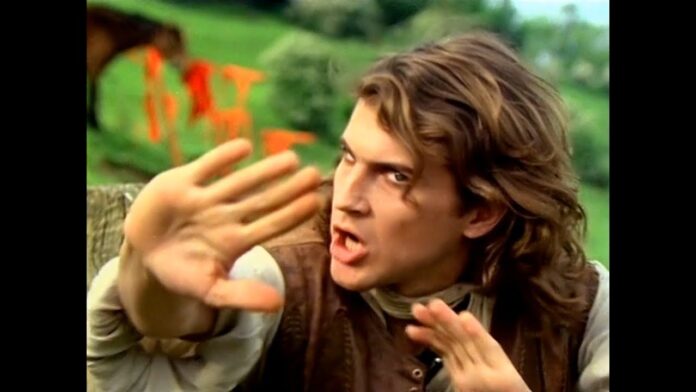 "We can dance if we want to, We can leave your friends behind". A slow burn success – Safety Dance was a minor hit in Canada becoming a global success six months after its release in the US.  The song remains popular today but what lies behind its enduring appeal?
By Bev Cleary
If you are of a certain age, you might remember a jolly little song by a new age synth/punk band about safety and dancing which took the early 1980s international pop scene by surprise.
It was called Safety Dance and it was made famous by the Canadian-based band, Men Without Hats.
It was 'covered' by TV host Jimmy Fallon & The Roots this year, the latest in a long line of covers by everyone from the Glee cast, Crazy Frog, Rufus Wainwright, Ninja Sex Party to music producer and musician Ross Alexander.
Different versions have also been featured on top TV shows such as Grey's Anatomy, South Park and Family Guy; movies including Hot Tub Time Machine (2010) and Sing (2016), and games such as the Playstation 2's Activision Anthology.
It was a top 10 hit in some 20 countries around the world and earned the band who penned and performed it, a coveted music award Grammy nomination.
Now, thanks to the Coronavirus pandemic, Safety Dance, by Men Without Hats, may appear to have more relevance today than it has ever had.
But could it ever have been about dancing social distance style?
Fallon and The Roots performed their own entertaining version of the early 1980s anthem Safety Dance, in April this year, using homemade instruments as part of the 'One World: Together At Home' concert.
The event was set up to support the World Health Organisation (WHO) and workers on the frontline of the Coronavirus pandemic, some of who made cameos in the accompanying video.
Arguably, Fallon and his band members couldn't have chosen a song with a more appropriate title for our present situation.
With its rather ambiguous title, Safety Dance, has puzzled many music fans over the last four decades and there is still some debate about the real meaning behind the lyrics.
It hasn't helped that the track, released nearly 40 years ago, has a rather unusual and whimsical video to match, which only adds to the mystery.
It has been suggested that the song may be referring to anything from safe sex to a metaphorical nuclear war!
Actually, the track and its lyrics were written by the lead singer of the band who performed and made it famous nearly four decades ago. They were, and remain, Men Without Hats.
Recently, Men Without Hats' Canadian front man Ivan Doroschuk revealed that the song simply refers to what he describes as his 'pogo' dancing in clubs during the early 1980s.
It was a time when disco music was losing the battle for continued popularity and New Romanticism was about to replace it. According to Doroschuk, the 'pogo' dance was something he did whenever he was at a club which played Blondie's 'Heart of Glass' or Rock Lobster by the B52s.
'Pogo' dancing became popular during the early New Romantics musical era and the end of Punk.
It involved bouncing vertically on the feet, with legs straight. Often dancers would bounce and deliberately bang into each other for fun.
Famously, eighties pop icon Debbie Harry described and explained the movement by getting out a traditional pogo stick and demonstrating the dance live on stage in the late 1970s.
As a result of its manic movement and the fear of collision injuries being caused in packed music clubs, some venues ejected 'pogoers' if they were concerned that the dance was erring on the side of danger.
The Safety Dance song features the lines "We can dance if we want to, we can leave our friends behind" and "We can act like we come from out of this world".
It hit the UK music charts in 1983 and had reached number 6 by November. It peaked at number 11 in the Canadian charts and was also hugely successful in South Africa.
But it wasn't an instant hit.
Men Without Hats lead singer Ivan Doroschuk revealed that he, and his brothers Stefan and Colin, had put together an album entitled Rhythm of Youth from which they intended to release their first single, 'I Got The Message'. But there was no interest in it and none in 'Safety Dance' which they released afterwards.
It wasn't until the band released a 12-inch dance remix of the song, which was the thing to do in the 80s, that it caught on.
The song's simple, repetitive structure, the ingredients that made it easy to sing to, mix and play around with, are what made it ideal for the early 80s dance scene.
Arguably, the song's popularity was boosted by its accompanying 'fairy-tale' style music video.
The video features lead singer Ivan, actor Mike Edmonds who has appeared in several high-profile movies including: Return of the Jedi, Time Bandits, Flash Gordon, Dark Crystal and Who Framed Roger Rabbit. (who starred in Maid Marian and Her Merry Men) dressed as a medieval court jester, and a whole host of locals acting as extras dancing in a fantasy, almost medieval, country scene.
In the video, they are joined by Louise Court who later went on to become the editor-in-chief at Cosmopolitan magazine in the UK.
The video was filmed in the village of West Kington, Wiltshire in England. It still bears quite some resemblance to how it appeared in the music video and many of the landmarks are still identifiable.
The original Men Without Hats band was originally made up of the three Doroschuk bothers who were American born but raised in Montreal, Canada.
They initially considered themselves a punk band which later merged into the New Wave movement with trademark synthesizer sounds and heavy drumbeats.
Men Without Hats never again reached the heady heights of their first hit single and band members came and went.  Only lead singer Ivan remained constant.
More recently, in 2016, the band, led by Doroschuk, released a new album entitled "Love in the Age of War". The new line-up also took part in the Totally 80s Concert in Sydney, Australia alongside Limahl, Martika, Katrina and the Waves, Berlin and Paul Lukakis.