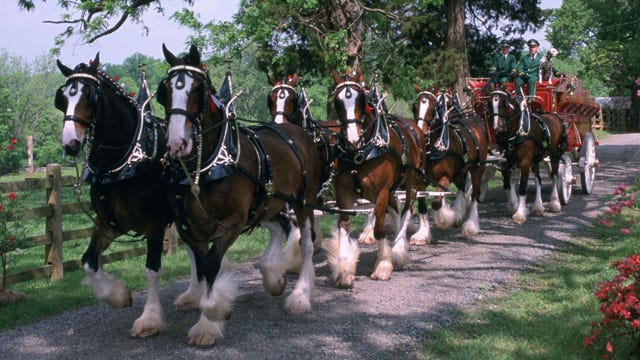 The World-famous Budweiser Clydesdale are scheduled to make several appearances in Lee County from February 29th.
Horses chosen for the Budweiser Clydesdale hitch must be at least three years of age, stand approximately 18 hands or six feet at the shoulder, weigh an average of 2,000 pounds, be bay in color, have four white legs, and a blaze of white on the face and black mane and tail.
The eight-horse hitch will be harnessed and hitched to the World-Famous Red Beer Wagon at the following locations:
· February 29, 2020: 4706 Se 11th Pl. Cape Coral Fl. from 3pm-5pm.
· March 1, 2020: 15271 Mc Gregor Blvd, Ft. Myers Fl. From 3pm-5pm
· March 2, 2020: 16554 N. Cleveland Ave. N. Ft. Myers, Fl. From 2pm-4pm
· March 3, 2020: 14100 6 Mile Cypress Pkwy, Ft. Myers, Fl. From 11am-1pm
The Budweiser Clydesdales were first introduced to the public on April 7th 1933 to celebrate the repeal of Prohibition.
Each hitch travels with a Dalmatian. In the early days of brewing, Dalmatians were used to protect the horses and to guard the wagon when the driver went inside to make deliveries.