KitKats have been phenomenally successful since being introduced to Japan and they now come in over 350 varieties. Why have KitKats become such a cultural phenomenon in Japan and what do they symbolise?

By Bev Cleary
In the UK, we have been enjoying the opportunity to 'Have a Break – Have a KitKat' since 1937. And generations of us have been familiar with that famous advertising slogan since it was launched 1958.
Nowadays, the brand is a global phenomenon that British taste buds have enjoyed for decades.
We are familiar with that tantalising 'snap' as we break open the double or quadruple bars of that time-honoured, traditional milk-chocolaty treat.
It has hardly changed in the UK for almost a century.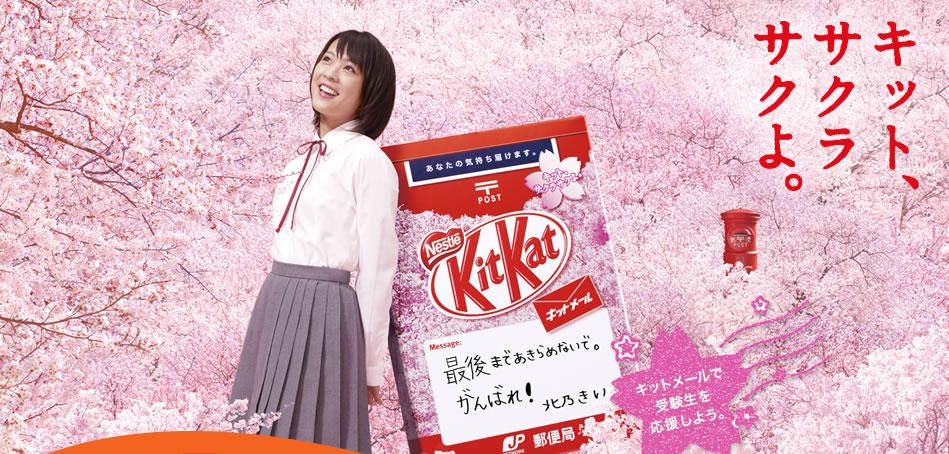 But did you know that, in Japan, taste buds are tickled at the prospect of a choice of more than 350 amazing, different flavours of KitKat?
The nation is one of the biggest consumers of KitKat products in the world. Its inhabitants, and ex-pats, are ever enticed by the prospect of hundreds of lip-smacking flavours aimed directly at, and demanded by, the Japanese sweet tooth.
Among the country's favourite flavours are: Edamane, Strawberry Ice Cream, Crème Brulee, Raspberry, Cappucino, Tokyo Banana, Soy Sauce, Uji "Matcha" green tea flavour and Cough Drop!
The British-born confectionary has elevated status in Japan and its many mouth-watering flavours are sold throughout high-end outlets often as special rewards, friendly gifts and treats.
They can be found in opulent, Kit Kat-committed boutiques and dedicated department store displays, as well as other smaller, more modest outlets across tourist and local hotspots.
In shopping malls such as Akiharara, Harajuki and Venus Fort in Tokyo and across the cities of Osaka, Ibaraki and Kamakura, obscure flavours are a plenty for those simply sweet moments.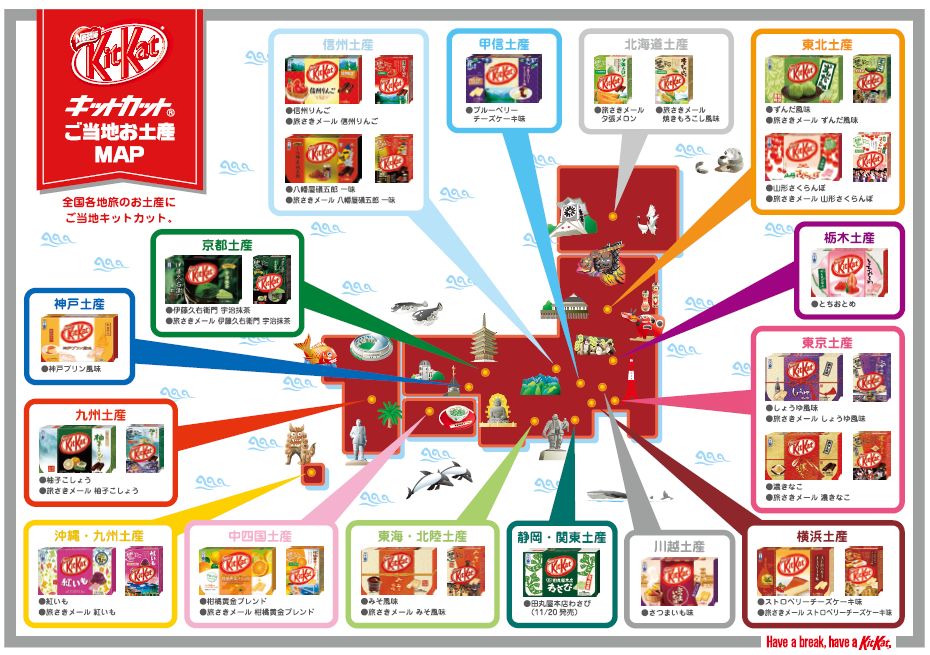 The wrappers, as well as the chocolate bars, are brightly coloured reflecting their flavours and compete for attention with the similarly brightly-coloured store displays.
Nestlé know their stuff and their products are directed especially at the Japanese taste buds. On top of that, products take account, not only of regional tastes but seasonal preferences as well.
This may also add to the feeling, among some Japanese KitKat cravers, that they must buy, buy, buy – just in case their favourite flavour is temporarily unavailable because it has been replaced by a different seasonal sensation!
Fortunately for Nestlé, such delicious tasting chocolatey treats appeal to both the Japanese palate and, also, the nation's long tradition of gift giving.
KitKats are bought by some to give as gifts in the tradition of 'omiyage' which is the presentation of regional specialities to family and work colleagues on return from a business journey. 
But the tradition that has most favoured Nestle and Kit Kat is that of well-wishing before exams.  And it's a double whammy!
Not only are students of all ages presented with sweet tasting edible treats created by Nestlé as a good luck charm – a Japanese phrase, little known in the UK, bears a striking resemblance to the trademark KitKat title. The words "kitto katsu" actually mean "you will surely win."
And Nestlé have responded in bucketloads to the rising demand each year around examination time to ensure that there is plenty of tasty choice on the shelves to make that testing time just a little bit sweeter!
Nestlé has released more than a jaw-dropping 350 limited-edition seasonal and regional flavours into Japan since 2000.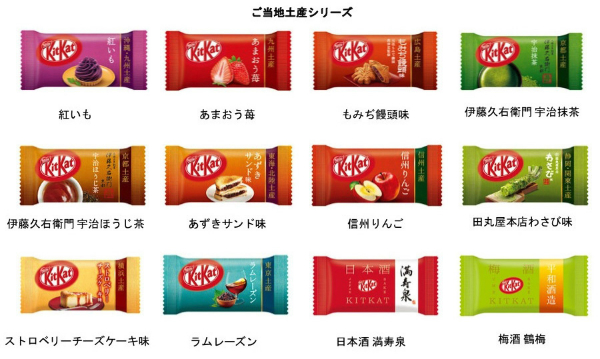 This August, KitKat will celebrate its 85th anniversary.
According to the company's website, KitKat first tempted the nation's confectionary palate in 1935 when it was launched as a four-fingered wafer in London and the South East under the fairly, forgettable name of 'Rowntree's Chocolate Crisp'.
Production dramatically increased in the York-based factory's 'Cake Department' (a bar was still referred to as a cake of chocolate in those days) and it wasn't long before the famous biscuit line went national.
It was rebranded two years later as the KitKat Chocolate Crisp, to fit in with the company's new branding policy.
Rowntree first registered the names 'Kit-Cat' and 'KitKat' as early as 1911 but waited until the 1920s before launching a branded boxed assortment as was popular in those days.
Kit Kat was originally the name of a 17th century literary and political club that met in a pie shop belonging to a pastry cook named Christopher Catling – whose names were shortened to Kit and Cat.
The story goes that the original chocolate crisp bars were invented in the York Factory in 1935 as a result of an idea that was popped into the Rowntree employees' suggestion box.
A worker had pleaded for the creation of a chocolate bar that could be taken to work in a lunch bag rather than the traditional box assortment.
Following a small number of alterations during World War 2, the KitKat as we know it first appeared on television in 1955 with the shiny new slogan: 'Have a break – have a KitKat'.
The rise of KitKat in Japan began in earnest in the year 2000 with a strawberry flavour version. In 2004, the Uji Matcha' was released with the introduction of a new technology to mix matcha powder into chocolate and the product became a huge hit.
In 2014, Nestle launched it first ever KitKat 'boutique' in Japan. 
The KitKat 'Chocolatory' store was located in the Seibu department store in Tokyo's Ikebukuro district, stocking exclusive varieties of the chocolate bar created in collaboration with renowned Japanese chocolatier Takagi.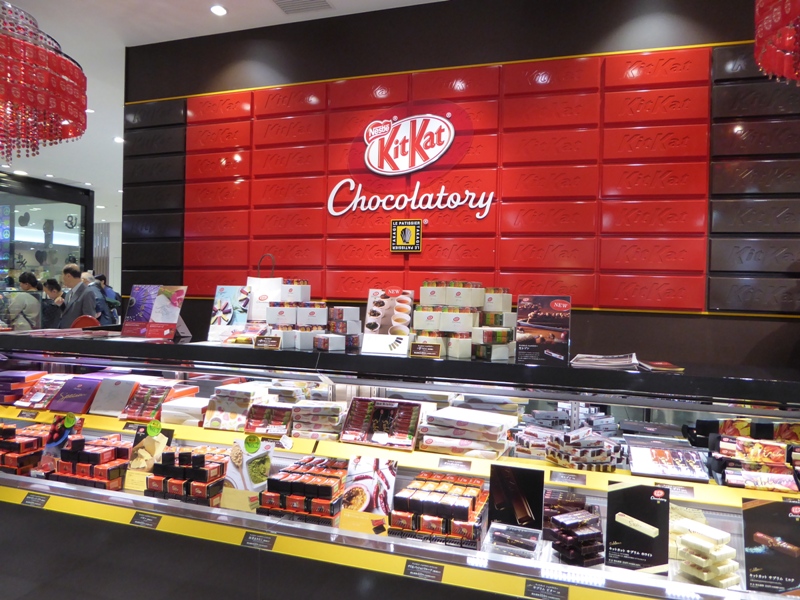 KitKat Ruby was introduced in Europe in 2018 to meet demand for flavour experimentation in confectionary and a nod to the growing interest in Japan's sweet treats. The crispy four-finger wafer bar is coated with Ruby chocolate, derived from Ruby cocoa beans, without, say Nestlé, the addition of any flavour or colour.
In the spring of 2019, Nestlé took the flavour of Japan to Europe with the launch of KitKat Green Tea Matcha inspired by one of the most popular of the 350 plus KitKat varieties in the country.
Matcha is a traditional drink made from powdered green tea that has been enjoyed for centuries in Japan, often as part of an elaborate tea ceremony.
Alexander von Maillot, Global Head of Confectionery at Nestlé said: "Nestlé in Japan has taken KitKat to the next level in the last two decades, with innovative flavour combinations and inspiring special editions."